Website Redesign Checklist - Project Plan for Success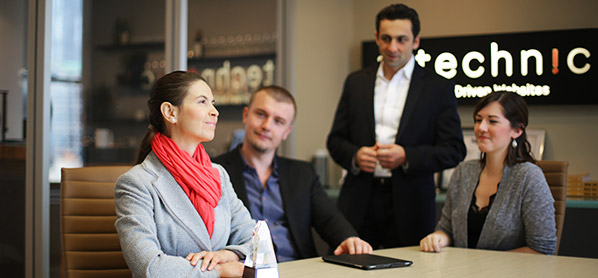 If you are about to embark on a website redesign project, you should know that most website redesigns don't go as planned (according to a research report by HubSpot):
51% of website redesigns launch late
63% of website redesign projects go over budget
33% of marketers are not happy with their website redesign outcome
How can you make sure that this doesn't happen on your watch? Well, the first step is to understand why website redesign projects fail.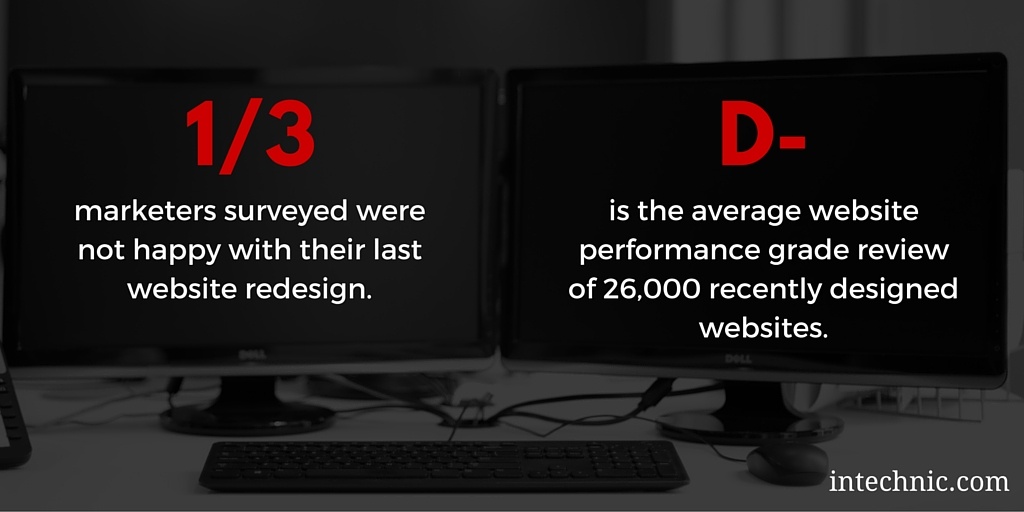 Why Do Website Redesigns Fail?
It basically comes down to the following mistakes:
Marketers often focus too much on the "design" part of redesign, thinking it will solve all of their problems. They rush into the project, focusing primarily on the "look" of the new website. Design, however, is often the wrong solution to the wrong problem and the effort produces only marginal, if any, improvement to the actual performance of the website.
50% of companies don't even have a basic strategy when it comes to their website redesign. Websites are built based on the opinions of executives (what they think their customers want) as opposed to what their customers actually want. This results in underperforming websites that are organization-centric and not user-centric.
Companies try to fix performance problems by throwing even more money at the website, tweaking it and expecting vast improvements. The problem is that those tweaks are still only based on opinions of stakeholders and not customers. Companies pay to make changes that, once again, result in little to no difference.
Your Job Security Is on the Line
Once the company realizes that a website project has failed, it is usually the marketing manager who gets all the blame. Consider this: Over 80% of the website redesign projects our agency handles are initiated by newly hired marketing managers. These marketers are typically hired to fix their predecessor's mistakes. Can you guess which mistakes they are also likely to make?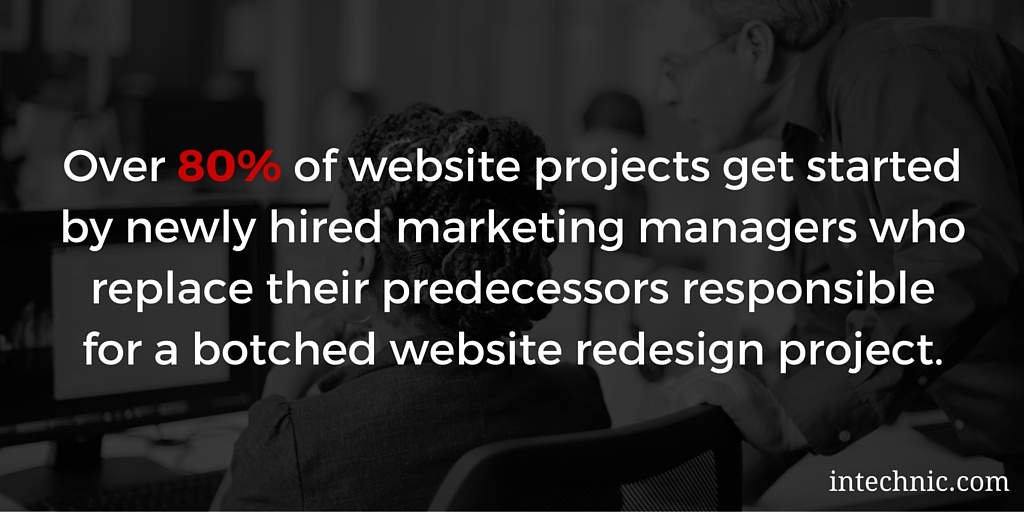 Even some of the world's biggest companies, like Target, Mark and Spencer and Walmart, have had website redesign failures by falling into these traps. The solution to all of these problems is to start with a solid strategy for your website. The outcome of your website project is in your hands. It is ultimately your responsibility to make sure your website strategy is based on a solid foundation.
How to Develop a Winning Website Strategy
Unfortunately, there is no one magic strategy that will work for every website and every organization. Just as every organization is different, the strategy that works best for your website will also be different. You will need to develop one that fits your specific needs and goals. Even if there isn't one strategy that fits all, there is a proven system you can follow to produce a successful website. Over the course of 18 years, our agency has developed a system that we've been using to build winning website strategies for all of our projects. It has worked so well that we are able to guarantee results for every website project we undertake.
Website Strategy that Works
The reason our system works so well is actually quite simple: it focuses on achieving the goals of your organization along with those of your customers. Consider the diagram below. The circle on the left represents what your organization wants from your website, while the circle on the right represents what your users want from your website: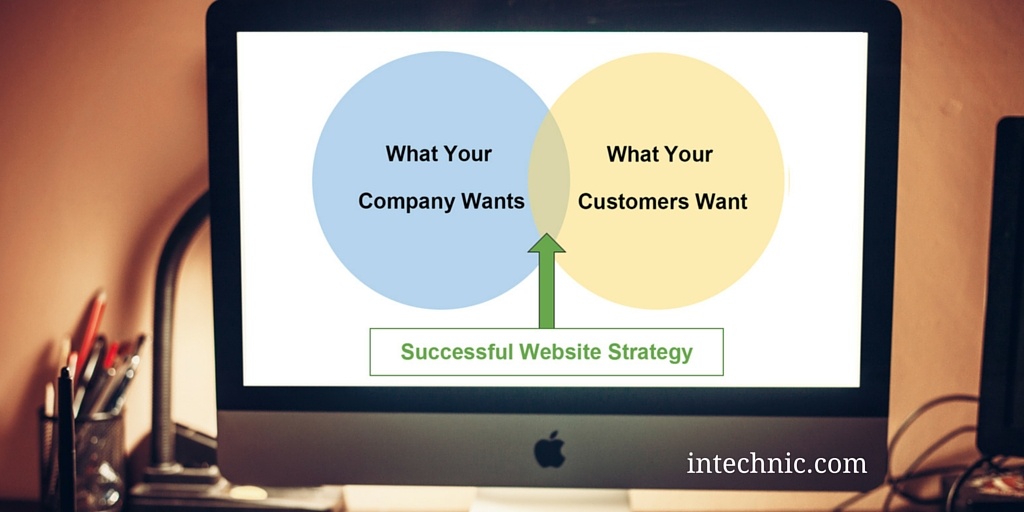 Over the years we've discovered that the website's success depends on maximizing the overlap between these circles. The more aligned your organization's objectives are with those of your users, the better the website will perform for your business and your users. What makes this system work is that it forces you to eliminate opinions and guesswork from your strategy and replace them with information from actual customers by learning exactly what they want. The results are phenomenal. How would you like for your website to generate double the results of your competition with twice the value and at half the investment in half the time? Do I have your attention? Let's get started!
ROI Plan™
We call our research-based, results-driven system the ROI Plan™ which stands for Results On Internet™. The ROI Plan™ has multiple steps, but with our tools and guidance, it will help you come up with a strategy that will exceed your expectations. It's worth the investment of time and effort and will produce ROI (hence the name). Companies have actually been using many of these methods for years, primarily in sales and marketing. Applying these proven principles to web design is what allows us to create a solid foundation for a winning website strategy every time. Let's look at the 10 steps of the ROI Plan™ in a little more detail:
1. Identify Website Stakeholders and Their Needs
Your project will be considered a success only if all stakeholders in your company are happy with the resulting product. You need to identify and manage the needs of various stakeholders and understand how their departments expect to benefit from the new website. You will help them work together with other stakeholders, address common reservations and navigate office politics.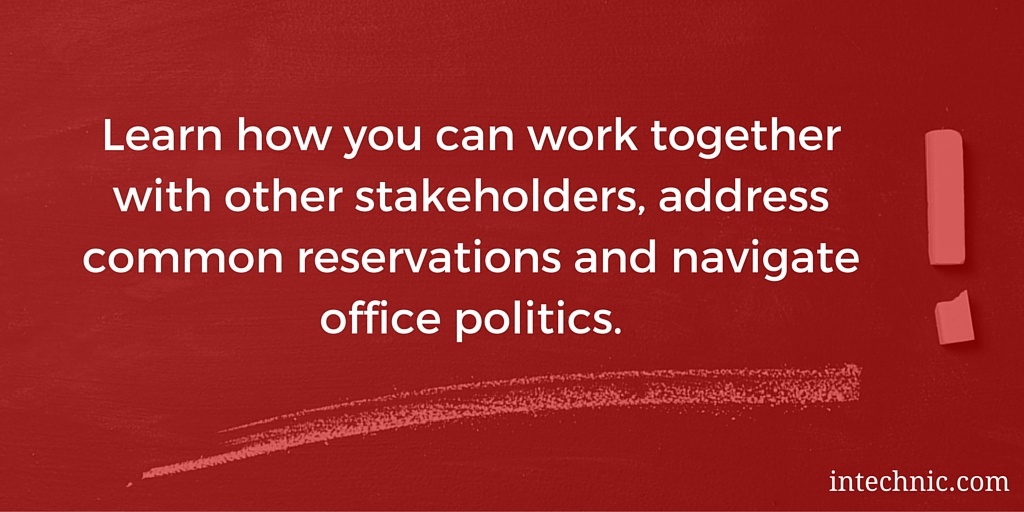 Harvard studies have shown that setting goals drastically improves success rates, so an important part of any strategy is to set strategic goals using the SMART model (Specific, Measurable, Attainable, Relevant and Timely). In this stage, you will set website goals for various departments, review examples and select goals that are the best match for your organization.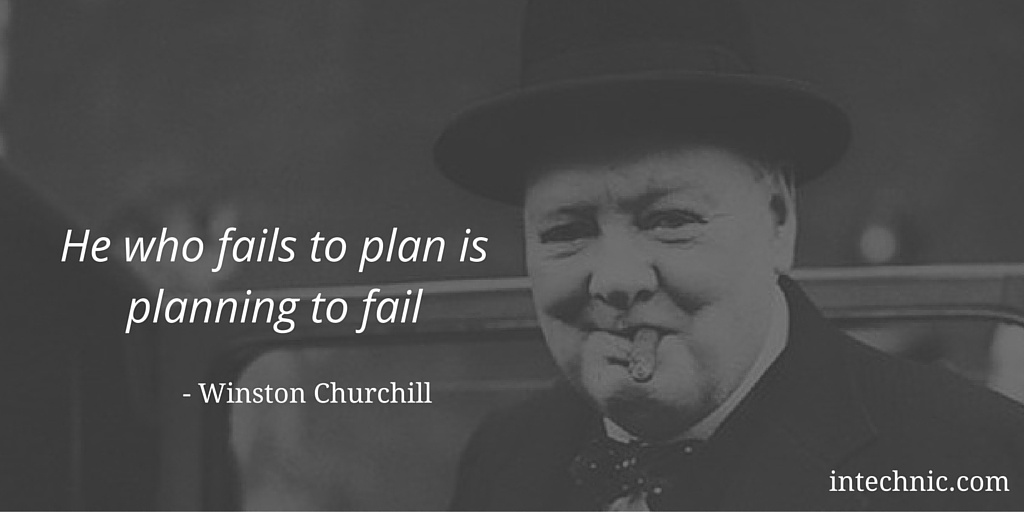 You need to know how your current website performs so that you can determine how far you are from your goal. In this step, you will benchmark your current website, establish KPIs, and ensure they align certain metrics with your redesign goals. This information will be used later as the foundation of your website strategy.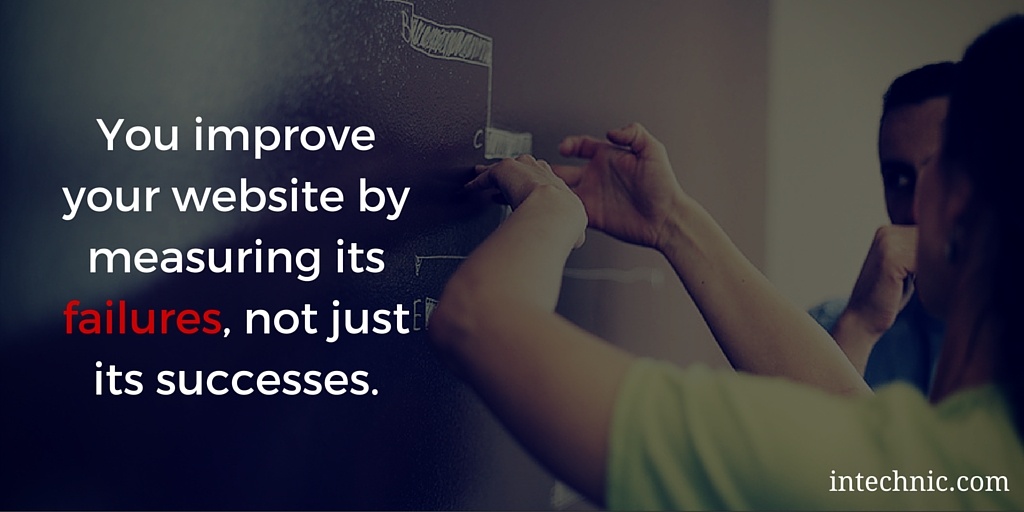 Now you will identify your best customers by calculating your Customer Lifetime Value (CLV). Your best customers are the most profitable and most loyal with a small attrition rate and low acquisition cost. These are the customers you want your website to attract.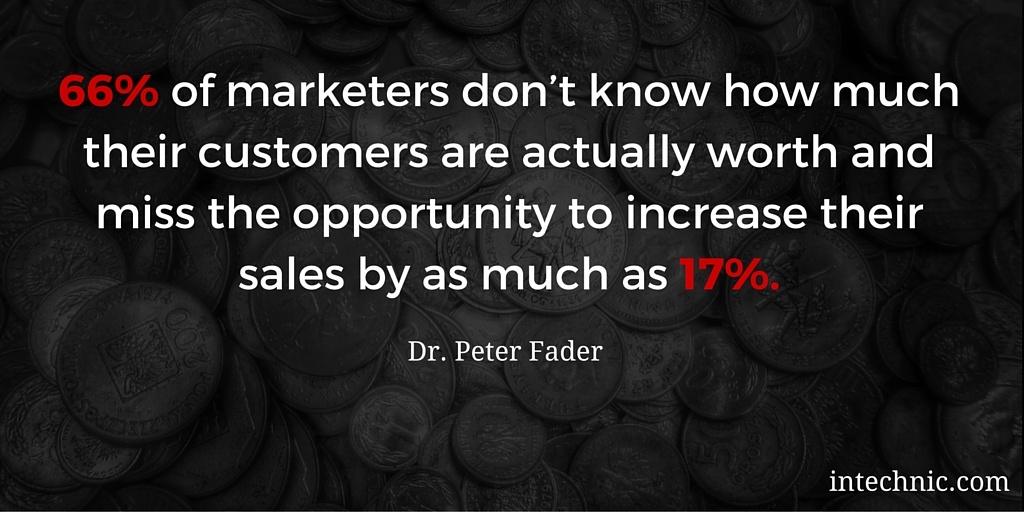 In this step, you'll interview your customers to better understand their perspectives. You may think you know your customers well, but research suggests that many marketers are mistaken. People make decisions based on instincts, thoughts and emotions, so without objective data, you are likely to miss some subtle but important elements of their thought process when buying.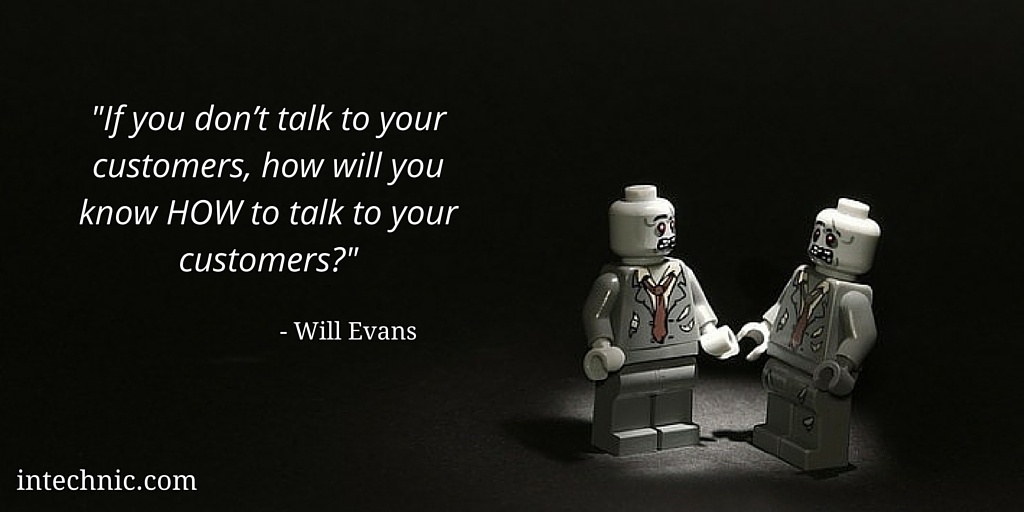 Personas are fictional characters that represent your best customers. They share all of the distinct characteristics of your best customer, including demographics, psychographics, pain points, needs, capabilities, wants and irritants. You will create personas that will be used throughout the rest of this process, during the design of the website and in all of your marketing.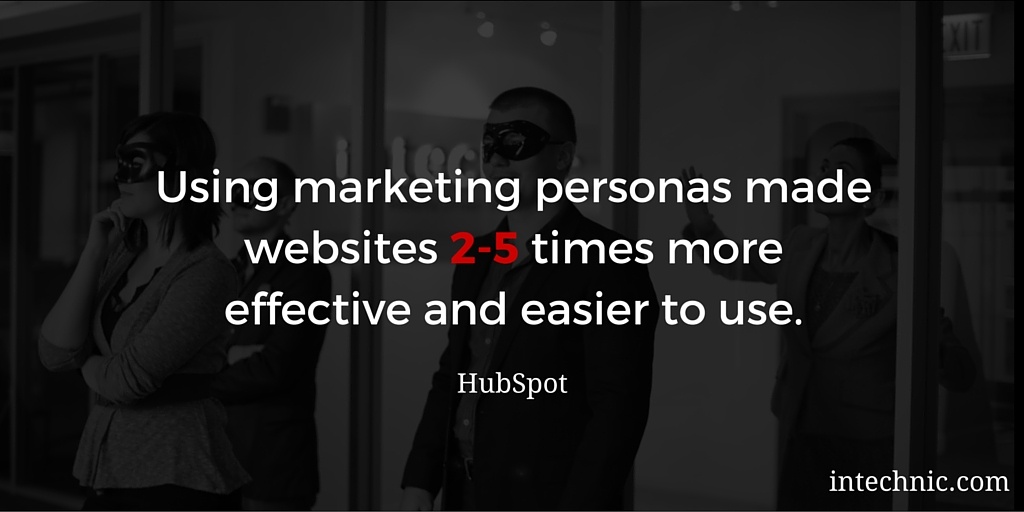 The next step is to map your customer journey. Research suggests that 90% of consumers use the Internet to find information on products, services or companies prior to making a purchase decision, and understanding their buying cycle (called the Customer Journey) will give you a huge advantage over your competition. Your customer journey will take into account how your customers go about making decisions, who influences them, how they go about looking for solutions to their problems, what actions they perform in the process—and much more.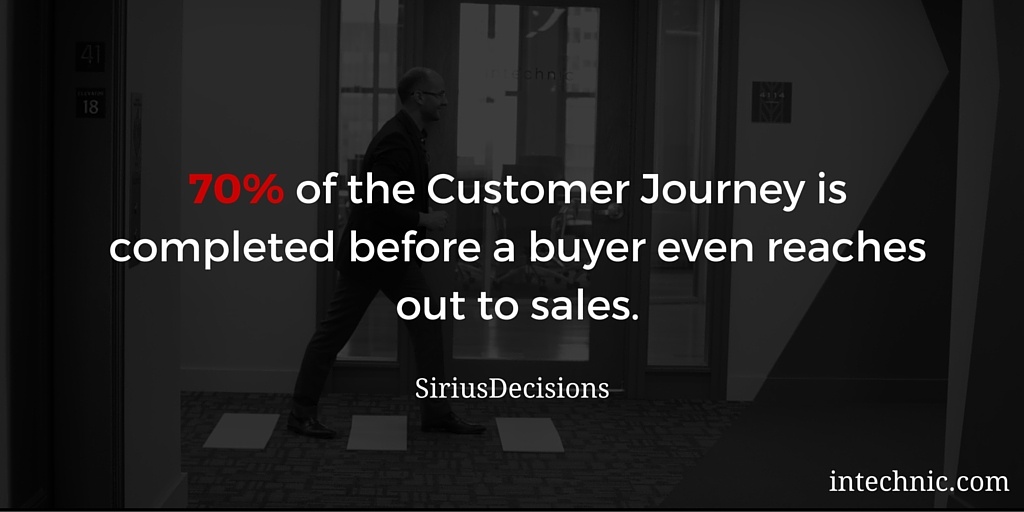 Now it is time to look at the competition. During this step we analyze what the competition is doing, what works for them and what doesn't. You will conduct a competitive analysis using our Competitive Analysis Worksheet – an elaborate tool that will give you an unbiased view of your competitor research and show you exactly how your company stacks up.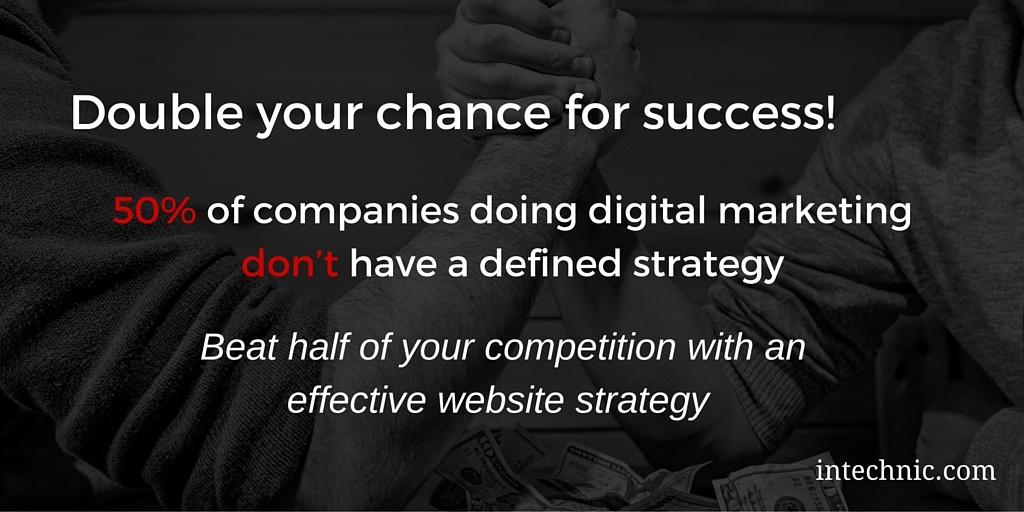 Once you've studied your competition and benchmarked your website, you are ready to start outlining your winning digital marketing strategy. To do this you will do a SWOT Analysis – a structured planning method to evaluate your strengths, weaknesses, opportunities and threats. Equipped with the information from competitive analysis and your website benchmarks, you can convert your SWOT analysis into meaningful, actionable items that will become an important part of your winning strategy.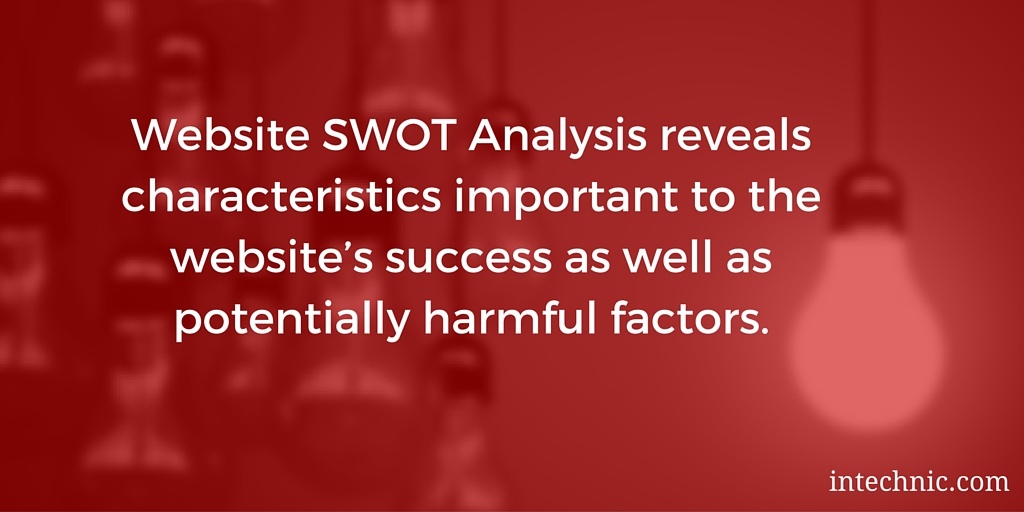 In the last step, you will determine whether you are truly ready to go forward with your website redesign. Our ROI (Results on Internet) Score™ will ensure you have accounted for all of the factors that make up a comprehensive website strategy. Once you complete this step, you can be assured that your website redesign will get off to a good start. To help you get started, we also put together a Marketer's Guide for Website Redesign that will test your strategy and explain some common mistakes. You can download it below:
Take the Next Step
It is important that you go through all of these steps. Skipping any steps or not following this process will result in a strategy that may be ineffective or even misleading. Start the process of developing your website strategy by proceeding to Step #1: Setting Website Goals.