Google Analytics Acquisition and Channel Reports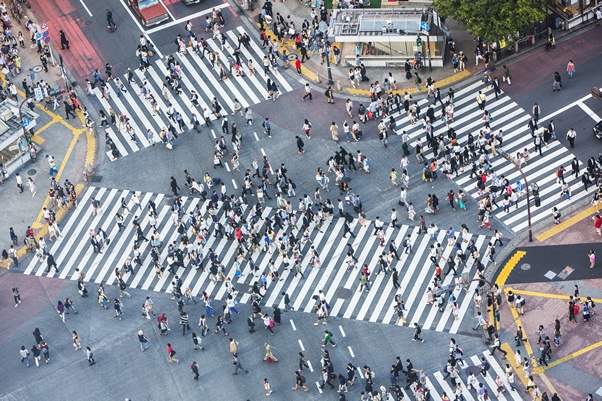 Continued from: Google Analytics Audience Analysis and Demographics Reports Acquisition is all about acquiring traffic or driving visitors to your website. After you set up Google Analytics on your website, the Google Analytics Acquisition reports provide a window into your visitors' Acquisition-Behavior-Conversion (ABC) cycle.
Acquisition Overview
The Google Analytics Acquisition Overview report allows you to measure the performance of various traffic sources (channels) through behavior and conversion analysis. The report shows the Acquisition-Behavior-Conversion (ABC) cycle: how the website acquires users, their behavior on your website and the path to conversion. In order to make the most sense of this report, let's dive into what this collective data reveals.


Channels
Before we talk about channels, it is important to understand the difference between sources and mediums. A source is the place that was last visited before reaching your website (e.g., a specific website or search engine), and medium is the method a visitor used to arrive at that source (by clicking on an ad or a link in an e-mail). Google Analytics Acquisition Channels determine the medium website visitors used to get to your website. It is important to know how much traffic each channel generates (in comparison with other channels), but it is also important that you determine the quality of that traffic. In other words, knowing which channel performs the best and holds the highest conversion rate. Knowing the most effective specific channel allows you to focus your marketing efforts on bringing more traffic through that channel. Let's go over some of the common Google Analytics acquisition channels:
Organic Search – this includes traffic that search engines (Google, Yahoo and Bing) send to your website from search results. Organic means that a search engine includes your website in search results "organically" (or because it is a good match for the user's search), and not because you paid for it.
Direct – usually means that someone accessed your website directly, either through typing in your website's URL or a bookmark.
Social – traffic generated through social networks like Facebook, Twitter, Google+ or LinkedIn.
Referral – visits through any websites that link to your website or "refer" traffic to you would count as a referral.
E-mail – visits through links in emails (for example, Gmail or Yahoo Mail).
Paid Search – unlike organic search, paid search is exactly that – you pay search engines' ad networks like Google AdWords or Bing Ads to send traffic to your website.
Other Advertising – traffic generated from any other form of paid advertising that Google Analytics recognizes.
Source/Medium
This expanded report shows the top sources of traffic to your website factoring in the medium. This report will allow you to identify which sources generate most traffic and understand their association with the medium. For example, Google (organic search) or Twitter (social).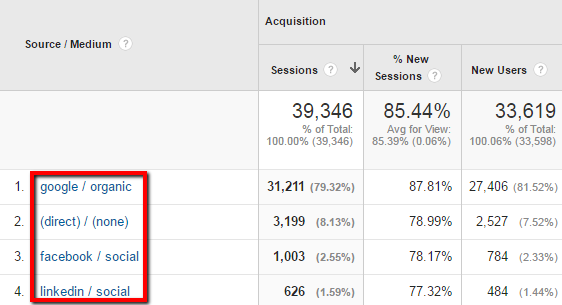 Referrals
The Referrals report lets you see what websites (and pages within the websites) link to your website and actively refer traffic. You can see the amount of traffic referred and the extent to which the referred visitors interact with your website. If your traffic-building plan relies on driving traffic from other websites, this report will tell you exactly how well this strategy is working.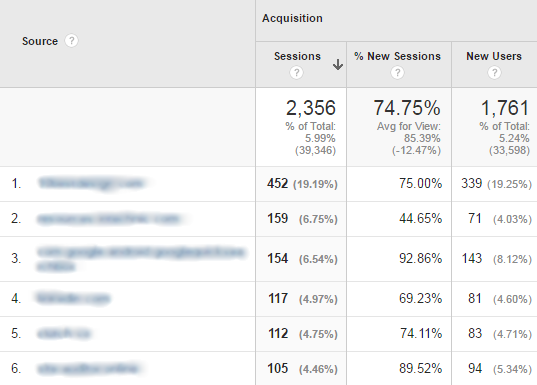 AdWords
If you are running PPC (Pay-Per-Click) campaigns, you should explore the number of AdWords reports that Google Analytics offers in order to optimize your spending. Google Analytics' AdWords reports give you post-click performance metrics for your paid traffic through AdWords. These reports help you track campaigns, bid adjustments, individual keywords' performance, placement and keywords' positions and more. By reviewing Acquisition-Behavior-Conversion (ABC) cycles, you can see users' behaviors when they click on your ads, as well as conversions and measures of ROI (return on investment) and RPC (revenue per click).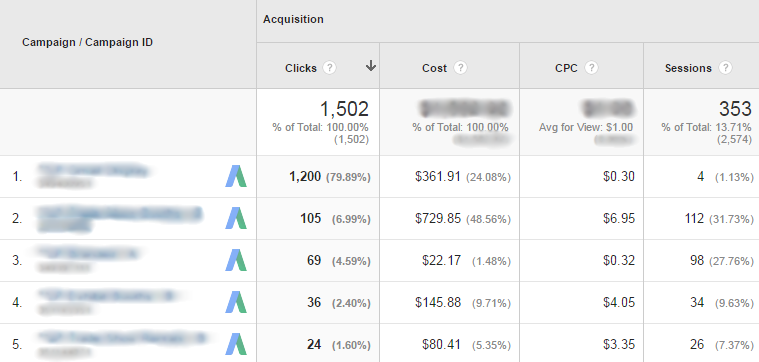 Search Console
According to Google Analytics, the Search Console reports in Google Analytics allows you to track how pre-click data (such as queries and impressions) corresponds to post-click data (such as bounce rate and transactions). Note that the Queries data is based solely on Google Web Search data. These reports are only available if you have the Search Console integration enabled. If you haven't done so, ask your web developer for assistance. Please note that the following data will not begin collection until the Webmaster Tools account is set up:
Landing Pages – this lists your website's that pages visitors landed on when clicking on search results in Google in addition to impressions, clicks, average positions and CTR (Click Through Rate).
Countries – this report provides the general view of impressions, clicks, and CTR by country. You can also switch the primary dimension to Google property that allows you to see same metrics for different types of content search, such as images, text, video, etc.
Devices – this report shows you a view of impressions, clicks, CTR and average position by device type (mobile, desktop and tablet).
Queries – this report shows the queries (keywords) users typed into Google to reach your site. The report shows the number of impressions of your website in search results, the number of clicks on these results, the CTR, as well as the average position of your website for the keyword.
Social
Social is an increasingly important marketing channel. Measuring the performance of your social initiatives is essential to the overall success of your marketing. The following Google Analytics Social reports can help you to determine what works and what does not:
Social Overview – this report provides a quick overview of sessions and conversions generated from various social channels, including a breakdown by social networks. The Social Value graph compares the number and value of all completed goals to the ones that resulted from all other channels.
Network Referrals – this provides a breakdown by social networks and shows how visitors from social sources interact with your site.
Landing Pages – when content is shared or discussed on social networks, it is important to know what content is shared and where it is shared. This is the nature of the Landing Pages report.
Conversions – this report shows conversion numbers' monetary value for the social networks that generate traffic to your website.
Plugins – social plugins (for example, Facebook "like" or Twitters "tweet" buttons) allow visitors to share your content on social networks. This report shows what content is being shared and where.
User Flow – this report is a graphical representation of the visitor's navigation through your website.
Campaigns
While the Referrals report already shows you the origin of traffic, custom campaigns will help you break it down further. Google Analytics allows you to add campaign-specific parameters to any URLs that allow it to collect more information about your referral traffic. For example, if you distribute a monthly newsletter, you can measure how many people clicked on links from each newsletter and track the Acquisition-Behavior-Conversion (ABC) cycle for each newsletter separately.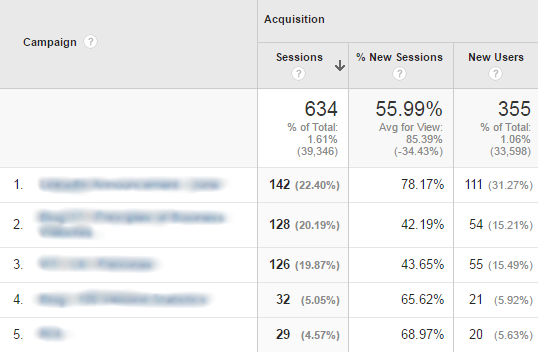 Keywords
The Google Analytics' keywords reports, which is located under Campaigns, used to be a fantastic resource to see which keywords bring the most and best traffic to your website. Unfortunately, Google has recently changed the way its searches are conducted by encrypting search queries of logged-in users. This means that you will no longer have easy access to the keywords that were used to find and navigate to your website. Instead, expect to see the infamous "not provided" where Google formerly displayed keywords. Google's official position is that this change was instituted to protect users' privacy. There are many industry professionals, however, who believe that Google has ulterior motives since the "not-provided" is only an issue for organic search queries, and paid search is not affected. The two types of keywords that Google tracks are:
Paid – keywords that brings your traffic through search engines' ad networks like Google AdWords or Bing Ads.
Organic – keywords that generate traffic from search results in search engines like Google, Yahoo and Bing. Organic means that your website appeared in the search results because it was a good match, and not because you paid for it. Expect to see fewer keywords in this report as time passes because of Google's restrictions.
Next post: Google Analytics Behavior Analysis – Behavior Flow and Other Reports Looking for more ways to get the most out of Google Analytics? Check out our free eBook below: