100 UX Statistics Every User Experience Professional Needs to Know
User Experience is a field that is often misunderstood. In order to be successful, UX professionals must speak the language of business to make business cases with decision makers.
If you find yourself explaining the importance of UX to others, you need to have clear understanding of hard statistics when expressing the value of UX to stakeholders, in order to support your business case.
We have compiled the Top 100 Statistics we've been using over the years to help you present your case! Check out other articles for Top UX Tips, Best UX Websites and Blogs to Follow, and Examples of Website Goals and Objectives.

ROI of Good UX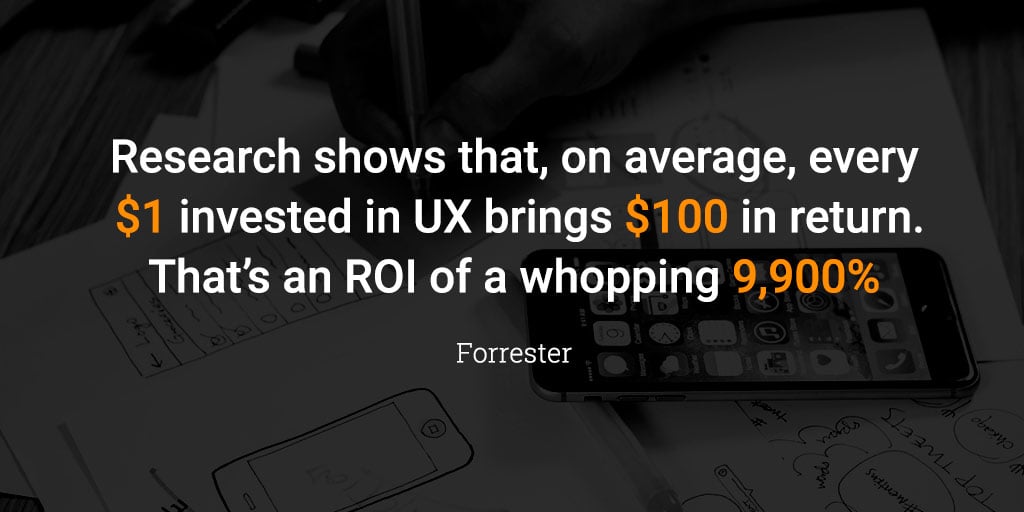 Research shows that, on average, every $1 invested in UX brings $100 in return. That's an ROI of a whopping 9,900%.
The top companies leading in user experience outperformed the S&P index by 35%.
A well-designed user interface could raise your website's conversion rate by up to a 200%, and a better UX design could yield conversion rates up to 400%.
If you utilize UX design to satisfy enough people to boost your customer retention by as little as 5%, you will be rewarded with a profit increase of at least 25%.
Companies that were less invested in UX (they considered themselves simply "design-centric") still saw their sales increase by 60%.
A 2016 design study of 408 different companies found that the more a company invested in and focused on design, the more sales they saw.
23% of customers who had a positive experience told 10 or more people about it.
When UX improves the customer experience, it raises a company's KPIs up to 83% in conversion lift.
8 in 10 customers are willing to pay more for better customer experience.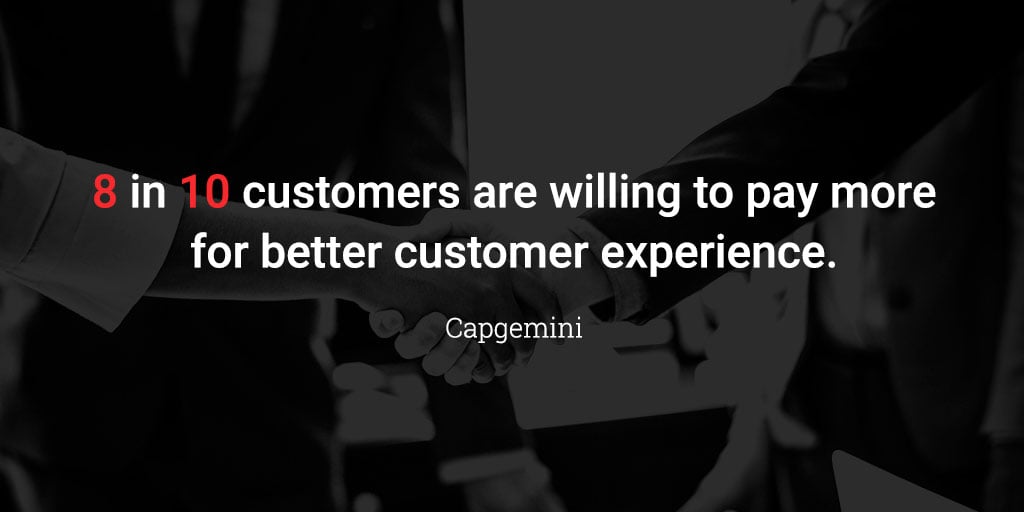 Cost of Bad UX Stats
Companies lose $62 billion every year due to poor customer service.
70% of customers abandon purchases because of bad user experience.
67% of customers claim unpleasant experiences as a reason for churn.
91% of non-complainers just leave and 13% of them tell 15 more people about their bad experience.
Slow-loading websites cost retailers more than $2B in lost sales each year
62% of customers say they share bad experiences with others.
79% of people who don't like what they find on 1 site, will go search for another site.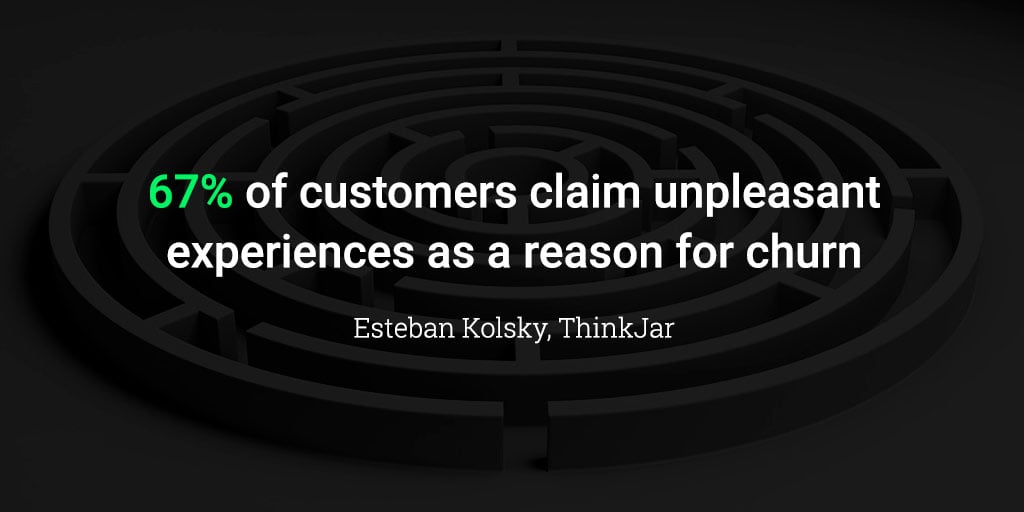 UX Business Cases Stats
Jeff Bezos invested 100X more into customer experience than advertising during the first year of Amazon.
AirBnB's Mike Gebbia credits UX with taking the company to $10 billion.
MacAfee saved 90% in expenses after integrating usability testing to learn more about its customers and their needs.
8% was the drop in sales incurred by Marks & Spencer after spending $220 million on their website redesign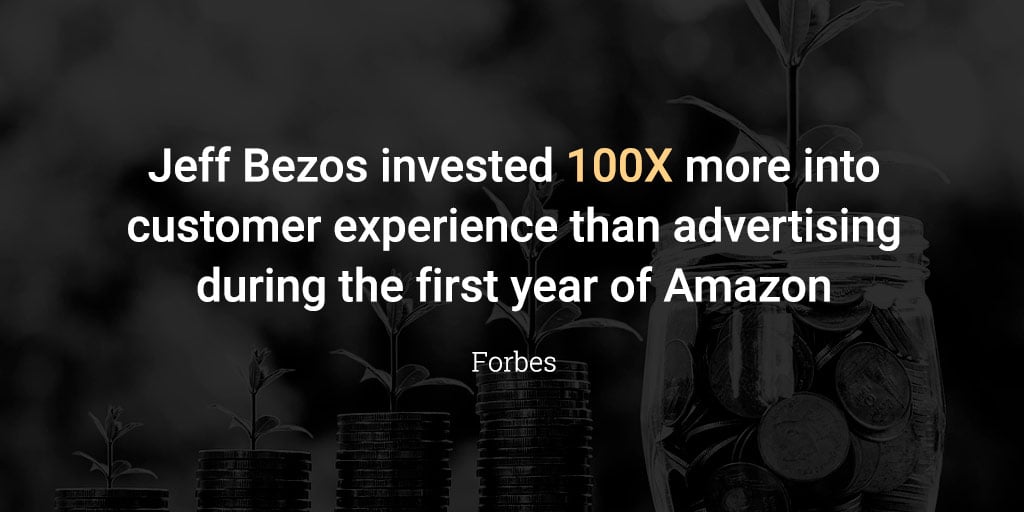 Millennials & Gen Z Stats
66% of millennial consumers expect real-time responses and interactions, versus just 62% of baby boomers and traditionalists.
61% of millennials are happy to share personal data if it leads to a more personalized in-store or online shopping experience.
58% will share personal data to power product recommendations that match their needs.
Millennials are massively entering the workplace. By 2020, they will form 50% of the global workforce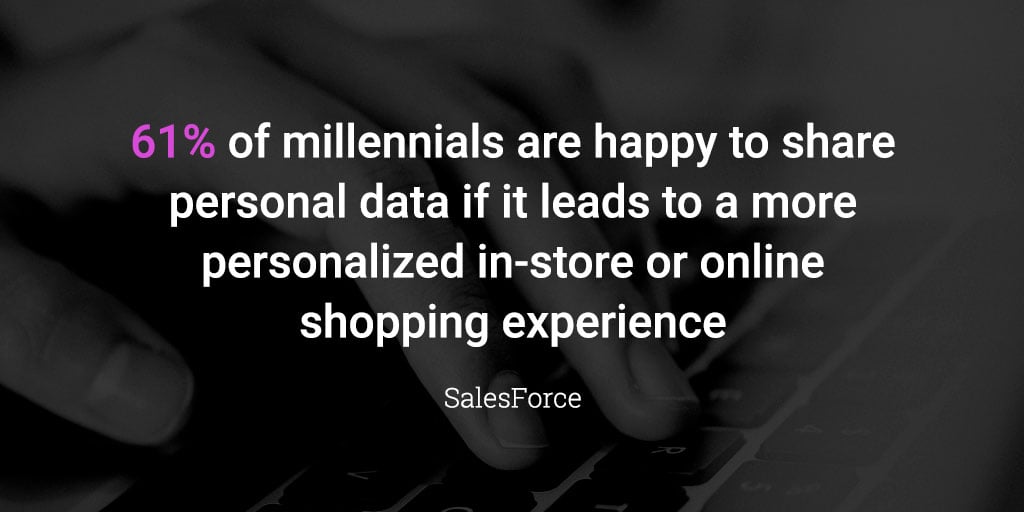 UX & CX Forecasts & Predictions
By the year 2020, CX will overtake price and product as the key brand differentiator.
Smart personalization engines that can spot customer intent will cause digital businesses to boost their profits by up to 15%.
Neary 3/4 (73%) of companies not currently conducting user testing will do so in the next 12 months
52% of enterprise CEO's mentioned UX or CX as a competitive differentiator in the next 12 months (2018)
67% of enterprises polled stated Voice Interface is the most important trend effecting UX in the next 5 years.
84% of companies expect to increase their focus on CX measurements and metrics
66% of enterprises polled stated Artificial Intelligence is the most important trend effecting UX in the next 5 years.
UX Design & Development Stats
94% of the factors that affect a user's 1st impression of your product are design-related. These 1st impressions are extremely important, and unimpressed users are often unforgiving.
Investing in UX during a project's concept phase reduces product development cycles by 33 - 50%.
Developers spend 50% of their time reworking projects because of poor UX.
Judgments on website credibility are 75% based on a website's overall aesthetics
83% of people say a 'seamless experience across all devices' is very important
Almost 40% of users will stop engaging if they find the content or layout of a website shabby
Video helps persuade 73% of people to buy a product or service
Visit-to-lead conversions can be 400% higher on sites with a "superior user experience"
Fixing an error after development is up to 100x as expensive as it would have been before development.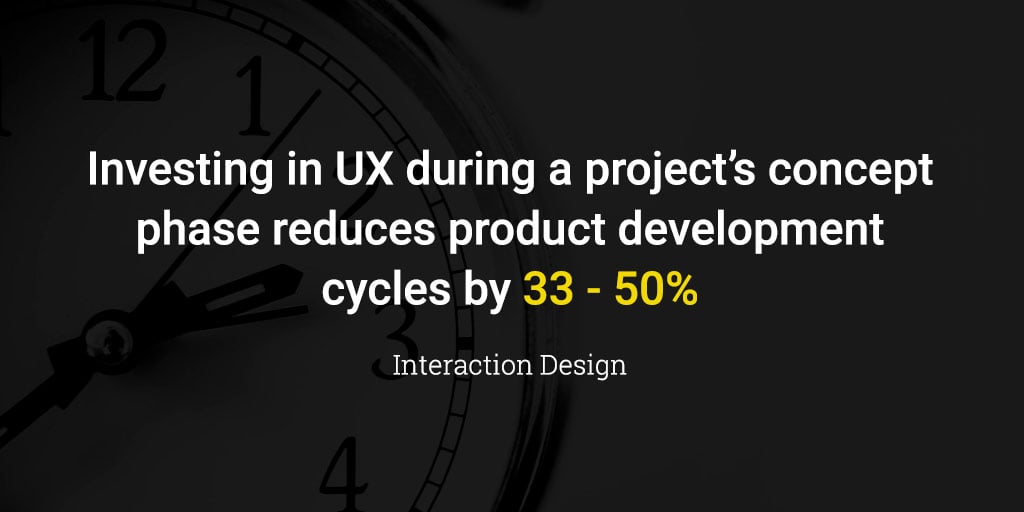 Mobile UX Stats
Mobile users are 5X more likely to abandon a task if the site isn't optimized for mobile.
52% of users said a bad mobile experience made them less likely to engage with a company.
80% of users abandon a mobile site if they have a bad user experience
95% of mobile apps are abandoned within a month.
53% of mobile site visits are abandoned if page takes longer than 3 seconds to load
71% of publishers say well-formed mobile content boosts user engagement.
46% of people say they would not purchase from a brand again if they had an interruptive mobile experience
By the year 2020, there will be a staggering 6.1 billion Smartphone users.
Almost 60% of users say they will not recommend a business that has a badly designed mobile site.
1/3 of all online shoppers cited the need to constantly enlarge their screen in order to click the right thing, as the most frustrating thing.
94% of smartphone users look for local information on their phone
90% of smartphone users take action, such as making a purchase or contacting a business
2/3 of mobile consumers are looking to make a purchase the same day.
33.5% of purchases 2018 holiday shopping season were made on smartphones, totaling $2.1B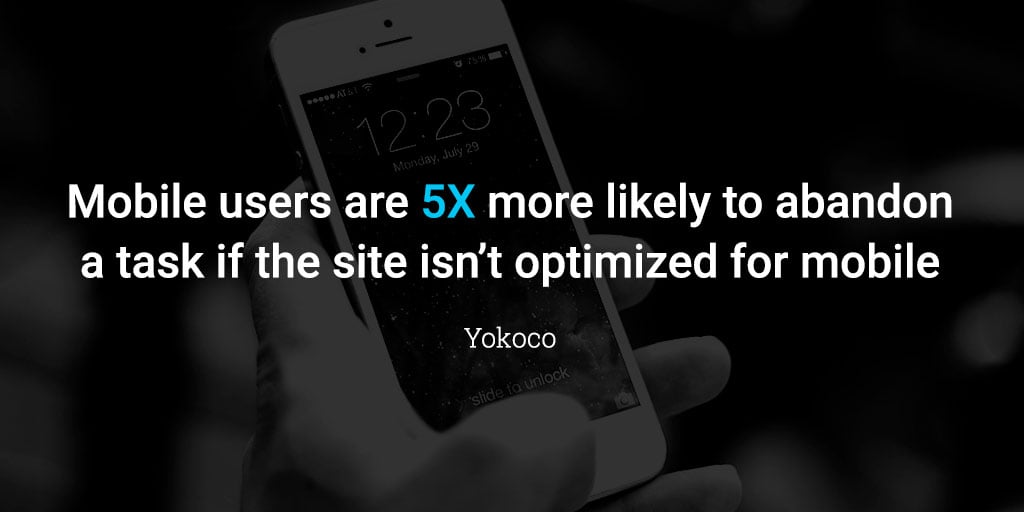 Website UX Stats
67% of users say that a poor website experience negatively affects their opinion of a brand
72% of business websites receive a failing grade of 59/100 or lower.
A single bad experience on a website makes users 88% less likely to visit the website again.
75% of user judgment about a business's credibility is based on their website design.
The first impression users have of a website is as high as 94% related to design.
It only takes 1/20th of a second to decide if you like a website, which is why neglecting UX is like saying you don't care about staying in business!
Given 15 minutes to consume content, 2/3 of people would rather read something beautifully designed than something plain.
People form aesthetic reactions to a webpage in the first 17 to 50 milliseconds after exposure.
77% of design agencies believe that poor website UX is a weakness for their clients
70% of small businesses don't present clear call-to-actions on their websites
51% of people think "thorough contact information" is the most important element missing from many company websites.
86% of visitors who land on a company's website homepage say they want to see information about the company's products and services.
65% of website visitors wouldn't submit a form if too much personal information was required
As for the exact personal information buyers would prefer not to give, phone number was top (58%), followed by address (53%), role or title (21%), last name (20%), company (18%), email (16%) and first name (11%).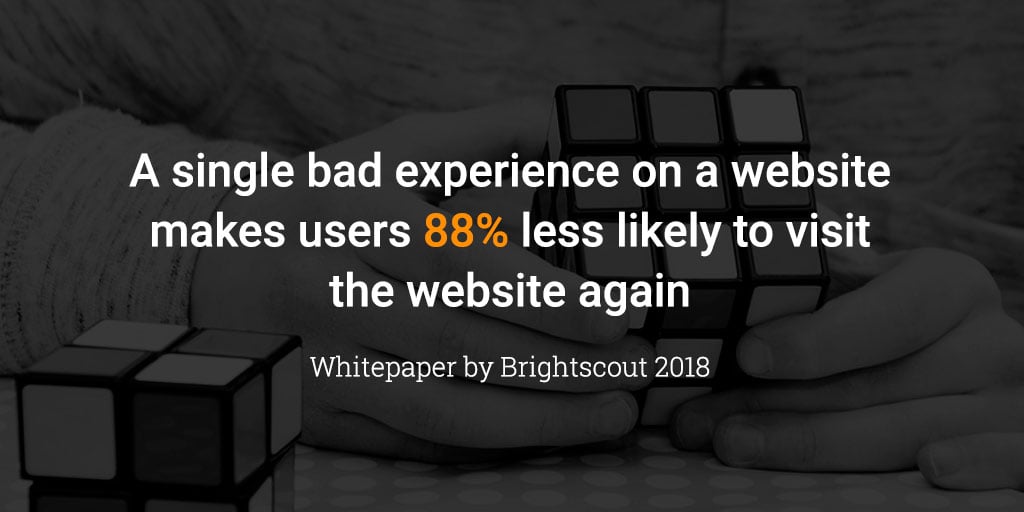 User Testing Stats
85% of UX problems can be solved by testing 5 users
Only 55% of companies are currently conducting any UX testing.
There was a success rate of 80% when people used the navigation scheme structured according to most users' mental model
There was a success rate of 9% when people used the navigation scheme structured according to the company's internal thinking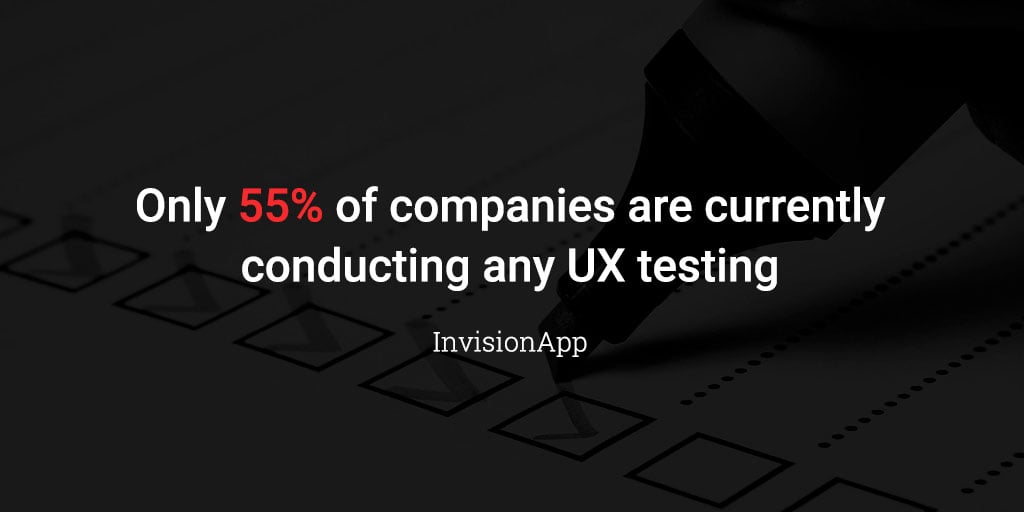 Customer Journeys & Decisions Stats
70% of the customer journey is completed before a buyer reaches out to sales.
By 2020, customers will manage 85% of their relationships without interacting with a human.
Tracking customer journeys in real time is key to delivering on customer expectations, yet 2/3 of organizations lack this capability
Over 75% of customers prefer self-service.
70% of buyers return to Google at least 2-3 times during the course of their research.
89% of consumers use the internet to find information on products, services or companies before purchasing.
90% of consumers say buying decisions are influenced by online reviews.
86% of senior-level marketers agree that it's critical to create a cohesive customer journey
33% who ended their relationship with a company did so because the experience wasn't personalized enough.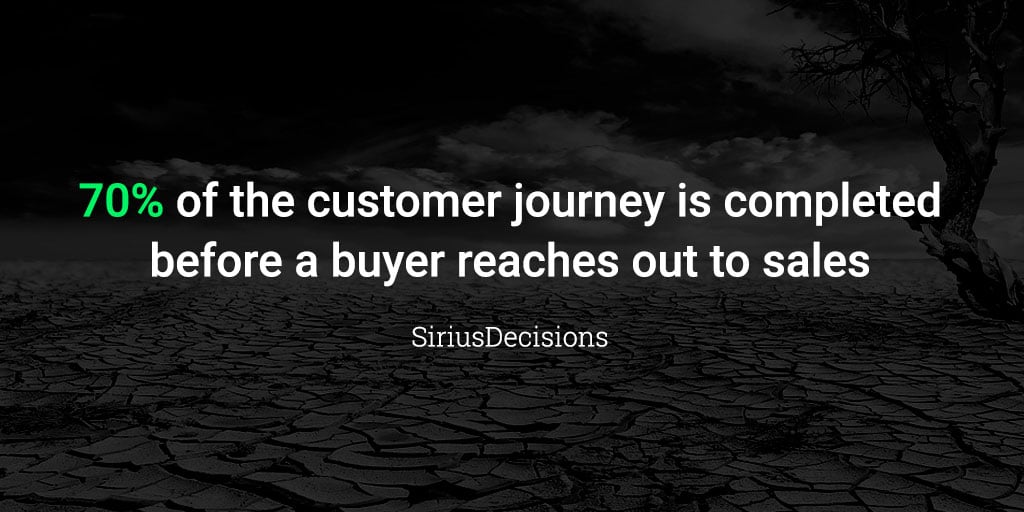 Personas & Research Stats
84% of customers say being treated like a person, not a number, is very important to winning their business.
76% of consumers think companies should understand their expectations and needs.
In the case of Intel, Buyer personas surpassed campaign benchmarks by 75%.
In one case, Buyer personas resulted in 177% increase in marketing generated revenue
Teams using personas can gain an ROI of 4X from using them in a redesign.
"Almost 1/3 of enterprises polled by UserZoom are conducting research either weekly or bi-weekly; 67% are conducting research every month,"
Demand for UX research (by enterprises polled) has increased by 30% in the last 12 months.
51% of enterprises polled saw an increase of 25% in their UX research budget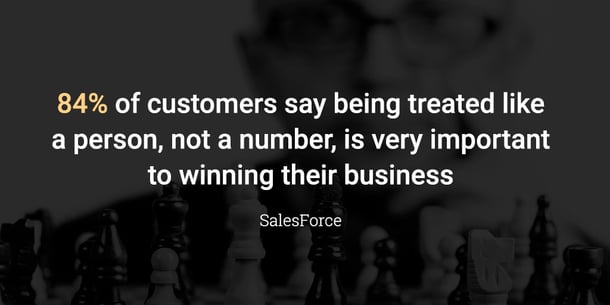 B2B UX Stats
In a typical firm with 100 - 500 employees, an average of 7 people are involved in most buying decisions
52% (of marketing managers) agree or strongly agree that they have seen more similarities in the way their B2B and B2C customers behave in the past 2 years
60% of B2B organizations surveyed struggle to connect the insights/data from all members of the buying process
55% of B2B organizations surveyed struggle with limited insights into interactions
Only 34% of B2B organizations surveyed engage with customers pre-purchase
Only 6% of B2B organizations surveyed create custom marketing journeys based on customer interactions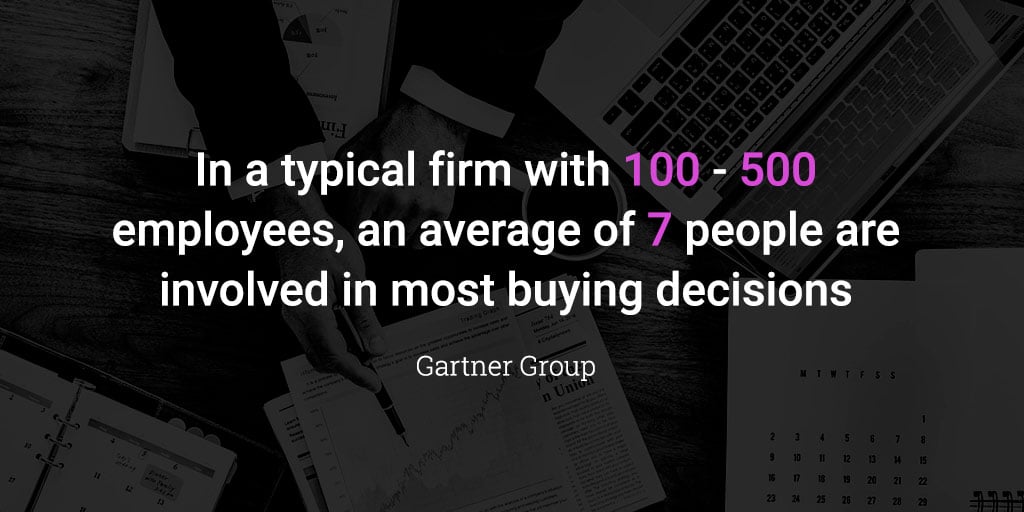 B2C UX Stats
64% of B2C organizations surveyed struggle to connect the insights/data from all members of the buying process
55% of B2C organizations surveyed struggle with limited insights into interactions
Only 33% of B2C organizations surveyed engage with customers pre-purchase
Only 7% of B2C organizations surveyed create custom marketing journeys based on customer interactions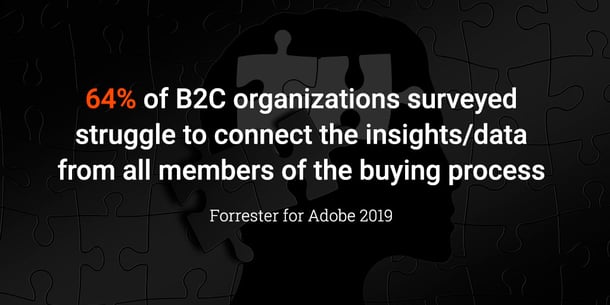 Sources: Aberdeen Group, BRANDfog, Business2Community, CEB, Content Marketing Institute, ContentPlus, Conversionista, CSO Insights, Custom Content Council, DemandGen Report, Econsultancy, Eloqua, eMarketer, Focus Research, Forrester Research, Gartner Research, HubSpot, iContact, Infographic Design Team, Kapost, Marketing Score Report, Marketing Sherpa, MarketingExperiments, MarketingProfs, Mashable, McKinsey & Company, MediaPost, Position2, Ragan.com, Relevanza, Remcolandia, RJMetrics, Roper Public Affairs, Sirius Decisions, Social Media Examiner, Steelhouse, The Annuitas Group, TopRank, Unbounce, WordPress Hosting SEO, WordStream