Wojciech Lorenc - The Future of Online Videos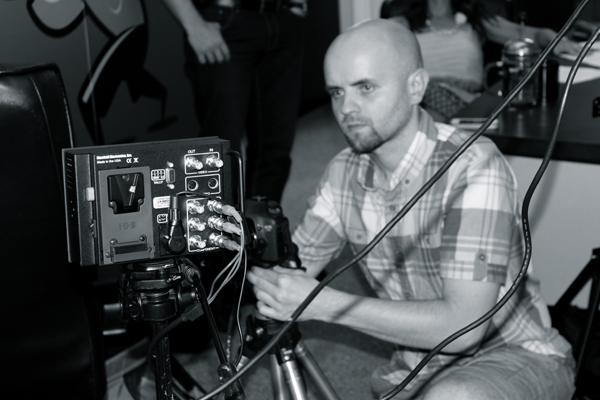 We recently had a chance to talk with filmmaker and producer, Wojciech Lorenc (pronounced Voy-tek), about the growth of online video and how it's changing the way we reach audiences and the way we communicate messages online. Wojciech is a faculty member in the Television Department at Columbia College Chicago, where he teaches Video for Interactive Multimedia and Aesthetics of Television. Video has becoming a driving force in the online multimedia experience. You can watch videos and create them, you can download, upload and stream videos online from multiple devices, you can share videos, and that's only the beginning. For Wojciech, a love for watching movies inspired a successful career in filmmaking and film production, but when he's not busy creating amazing videos, he's educating future filmmakers on how to harness the power of online video in a digital era.
What is the #1 tip you have for successful Business-to-Business Videos on the Web?
As a business, you need to evaluate available video strategies and study how each platform works. For example, you need to study YouTube as a platform, and learn about its functionality to understand how it can be used to reach your target audience and communicate a particular message.
As a college instructor, what is your overall goal in terms of teaching your students about the future of video on the web?
A lot of my teaching focuses on creating online video shows or web series, as well as creating and building an audience or a following.
The changing nature of video marketing is a huge topic for discussion in the business world and the academia, and one thing everyone wants to know is, what makes a video viral?
I get asked this a lot, and the best piece of advice I have about viral videos is don't bother making viral videos, instead focus of making a video with sharable qualities. The bar is getting higher and higher for viral videos, and authenticity is much more favorable with online audiences. Remember: the web's most viral videos weren't really meant to be viral, but they did mean to share and encourage an emotional response.
As a filmmaker and video marketing expert, what tips do you have for making your video more sharable?
Popular online videos share several key components, and the most important is being able to focus on content that is topical, so you really need to stay on top of current events and trending news. You need be able to think quickly on your feet and create quickly, in order to respond to what's happening in pop culture and around the web. Your videos should be as authentic as possible and they must provoke an emotion, any emotion. And you have a clear understanding of how people are viewing your content- are they watching it on their laptops or are they watching it on their smartphones?
Here are some noteworthy examples of videos that have gone viral:
This popular internet cooking show, if it can even be called that, has earned millions of views on YouTube and has over 3 million subscribers. Webisodes showcase extravagant food combinations with epic caloric counts that fit their title, but it's their obscenity that forces a reaction from viewers as they wonder, what in the world is going on?

This video is pretty self explanatory, depicting a baby panda bear sneezing. Odds are you have probably seen it. What makes this video stand at the top of viral video charts is its cuteness factor, as well as its authenticity. The video is short and appeals emotionally to a universal audience, enough so that you want to watch it over and over again.

This video of one brother is biting his brother's finger, was uploaded by the boy's father, whose only intent was to capture the boys growing up. This 2.35 minute viral video has gotten over 150 million views, and similar to The Sneezing Baby Panda Video, Charlie Bit My Finger reaches audiences emotionally in that it's both cute and funny- you can't help but to watch it over and over.
Which video sharing platform do you prefer, YouTube or Vimeo?
YouTube. That's where most of the eyeballs are. Vimeo is more of a professional filmmaking community, and if you're looking for a professional or you're looking to connect or participate with other members of the filmmaking community, Vimeo is a great place to be.
What Predictions do you have for the Future of Web Video?
Mobile is going to play a huge role in the online video arena. We are doing more with our mobile devices than our computers and that has led shift in philosophy about what certain apps can do and what they're designed to do. Apps are taking over so quickly because the mobile experience is so fast paced.