Top 50 UX Influencers to Follow on Twitter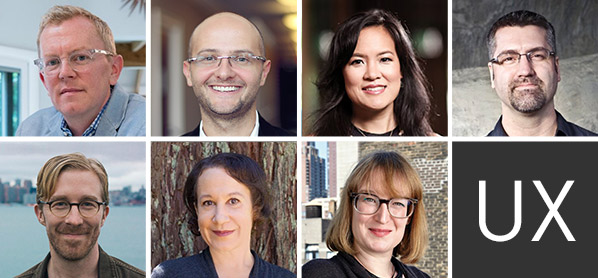 If you are looking for the freshest UX inspiration by way of tips, tricks, technique, news updates, advice, or opinions, Twitter is a great place to look. But, like any social media, the best information can get hidden under loads of junk. Have no fear! We have done the heavy-lifting for you and compiled a list of the top 50 UX influencers to follow on Twitter. With this list, you can easily connect with some of the most influential thought leaders in User Experience to help continue the UX conversation. Happy Tweeting!
Information Architect at T-Systems Multimedia Solutions who curates information about UX specifically for his Twitter page. Jan also hosts podcasts IATV Radio and Abends in der Kreativwirtschaft.
"A User-Centred Approach to Mobile Design and a 5 Stage Process for You to Use" https://t.co/d3exHd6GPW (https://t.co/DiC0M8B8SU) pic.twitter.com/7T8goLOAVg

— Jan Jursa (@IATV) November 6, 2016
Director of Product Design for @SalesforceIQ. She previously worked for such big names as @Facebook and @Prudential. You can find her UX blog at inspireux.com.
Author of books Influence and PRESuasion and President of Influence at Work. He has been called the "Godfather of Influence," working with clients such as @Google, @Microsoft, @Cisco, @CocaCola and @Pfizer.
Founder & CEO of top Chicago web design agency @Intechnic and also 9th in the world to receive the @NNgroup title of Master of UX. He is the author of Results On Internet (ROI): Secrets of Successful Business Websites.
Do not use blue color & underline for text that is not links. #ux tips: https://t.co/mN41xcYCot pic.twitter.com/wuxHUUwLGD — Andrew Kucheriavy (@ky4ep) October 24, 2016
Steve Krug is a renown web usability consultant and author of the books Don't Make Me Think!, now in its third edition, and Rocket Surgery Made Easy.
Developer Experience Lead at @Uber and is credited with creating the Twitter #hashtag. He was also a UX Designer behind @GooglePlus and co-founded @BarCamp.
CEO of customer experience consulting firm @ClearAction and sister company @MOpartners. Previously, she transformed customer experience @Applied_Blog and @Sonoco_Products.
You have to do the work to get to the next level with customers. https://t.co/56UiAGy24X #cem #cex #ux #crm

— Lynn Hunsaker (@clearaction) November 4, 2016
Known as "The Brain Lady" and heads The Team W. She is also author of 100 Things Every Designer Needs to Know, 100 MORE Things Every Designer Needs to Know About People and How to Get People to Do Stuff.
Co-founder and Design Director of user experience design consultancy, @SU_Studio. He is also founder @uxjobsboard.
Operating Design Partner @khoslaventures. She is the former head of design at @Google, @Yahoo, and @Udacity. She also serves on the Interaction Design Foundation's board and teaches yoga in her free time.
Scott Jenson is the Project Lead for Physical Web for @GoogleChrome and has over 25 years of experience in design. He formerly acted as UX Director for @Google, Symbian (@AAS), @frogdesign, and @Apple.
When aesthetics trumps discovery... You get aftermarket hacks like this pic.twitter.com/42pqpVvDvx — Scott Jenson (@scottjenson) October 15, 2016
One of three co-founders of @Paravelinc as well as subsequent app @godaytrip. He has been working and building for the web for almost 15 years.
Authored UX for Lean Startups and Build Better Products. She is Principal at Users Know where she works with product teams to help them learn from their users and turn those insights into products people love and use.
Designed and developed with @Facebook, @Rdio, @Everyblock and @Apple. Currently, he is the Director of Digital Design @calsunday.
An Independent Web Designer who has worked for @people, @NYMag, @sundancefest, and @BostonGlobe. He is also author of Responsive Design: Patterns and Principles (@RWD).
On popups, and the unintentional biases we design into our websites. https://t.co/glMG8sVjzZ — Ethan Marcotte (@beep) October 18, 2016
Design Partner @Gvteam and the former Creative Director of @Digg and TinySpeck (now @SlackHQ). He is also a co-founder of mobile incubator Milk Inc., which was acquired by @Google.
UX Designer who has worked for @ATT, @DietCoke, @Microsoft, @MTV and more and has won several awards in the process. She also runs the LA UX Meetup Group @LAUXmeetup.
CX, digital marketing, and usability testing pioneer at Frank Reactions. Past clients include @BankofAmerica, @YourAlberta, and ING Direct (now @CapitalOne). She also wrote bestseller, PeopleShock: The Path To Profits When Customers Rule.
Senior Scientist at MacroCognition LLC. who has dedicated his career to understanding how people make decisions through insight. His latest book is titled Seeing What Others Don't.
Typical instructors try to correct mistakes. The best instructors blend curiosity + cognitive empathy: how did the trainee make the mistake?

— Gary Klein (@KleInsight) August 20, 2016
A celebrated designer and author of best-selling book, The Best Interface Is No Interface. He currently works at @Google on design strategy for the future of Android. Previously he worked in R&D for @Samsung and @Zappos.
Co-founder of experience design consultancy @AdaptivePath who credits himself as a blogger before blogging. He is also author of The Elements of User Experience.
Independent UI/UX Designer out of Australia who also specializes in front end development. Big name past clients include @CampaignMonitor and @freelancer.
"If you want something to be seen and used, don't make people look for it. Put…" —  @joulee https://t.co/a6JoPQfPnI pic.twitter.com/Cq2rME3N5f — Adham Dannaway (@AdhamDannaway) August 19, 2016
Writes for androiduiux.com and considers himself a Android/UI/UX/IA/IX Designer. He also works as a @GoogleDevExpert in UX design and designs for @snappymob.
UX Strategist & Designer and advisor @uniqueboard. She was previously the Chief Experience Officer/UX Strategist @hugeinc.
Interaction Designer and Principal Researcher @MSFTResearch. Prior to Microsoft, he was Principal of his own boutique design and consulting firm, Buxton Design.
In conversation, it occured to me that great design and innovation are a lot like great comedy: dependent on BOTH great content AND timing. — Bill Buxton (@wasbuxton) September 6, 2016
UX and Content Strategy Expert for web and mobile with over 15 years of experience. She is the founder and managing partner @bondartscience as well as author of Content Strategy For Mobile from @abookapart.
Product Design Manager @Facebook as well as former Editor-in-Chief of @digitalweb, which he founded in 1996. He was also founder of Blue Flavor and UXforChange.org
Leads the team responsible for the installation of new features into the @Discover card Website and App. Previously Melissa was responsible for the UI / UX of Web and Systems within collections at Discover.
Use digital distribution to give your customers what they want next @forrester #solsticefwd

— Melissa Douros (@MelissaDouros) September 15, 2016
Senior User Experience Designer at @Genentech, focusing on Enterprise iOS app design. She has designed over 20 apps over more than 15 years of experience.
Runs UX consultancy Information & Design. He is also Director of Publications at @UXPA_Int, and former Managing Editor of @uxmag. He co-authored Forms that Work: Designing Web Forms for Usability with @cjforms.
An independent User Experience Strategic Designer who works with both not-for-profit and commercial businesses. Paul Boag is also co-founder of web design agency @headscapeltd and author of Digital Adaptation.
You're one bad user experience away from a PR disaster. Take user experience design seriously! http://t.co/OjSkbasiB9 pic.twitter.com/x5QahIDqPv

— Paul Boag (@boagworld) March 28, 2015
Senior Vice President of Customer Listening & Engagement for @Citi. Previously, she was a Customer Experience Manager @Sprint.
Co-founder and partner of Dalberg's @DIG4impact, focusing on human-centered design. Before Dalberg, he was Vice President of Creative for @frogdesign.
One of the world's most famous UX Designers with @NNgroup. He is credited with coining the term "user experience" and is the author of The Design of Everyday Things.
It's fun to be 80! ( @EpicGames) Every design studio should have one of these. Hint: @DesignLabUCSD) pic.twitter.com/qQiFyKhchf — Don Norman (@jnd1er) May 14, 2016
Designer and User Experience Leader who runs the UX website, usabilitycounts.com. Past clients include @Microsoft, @eBay, @Disney, @Comcast and @Orbitz.
Co-founder of design and strategy firm @cooper. He is also the author of About Face: The Essentials of Interaction Design and The Inmates Are Running the Asylum: Why High Tech Products Drive Us Crazy and How to Restore the Sanity.
Runs usability company @Effortmark Ltd. which focuses on optimizing forms and surveys for the web. She co-authored Forms that Work: Designing Web Forms for Usability with @gerrygaffney.
Seen today: "The effectiveness of surveys starts with the quality of the questions." Wrong. Start with a clear aim. Questions follow. — Caroline Jarrett (@cjforms) October 15, 2016
Founding Principal of research, training, and consulting firm User Interface Engineering @UIE and has been an authority on UX design across almost 40 years. He is also co-founder @CenterCentre.
Founder of distributed design network @7headsdesign and former User Experience Director at the design studio, @happycog.
Product Designer and Partner @RocketInsights, co-founder of @52weeksofux and writer of the Bokardo blog. He previously served as UX Designer for @HubSpot.
It's not that designers need a seat at the table it's that the customers and their needs have to be represented and designed for.

— Joshua Porter (@bokardo) October 5, 2016
UK-based designer who specializes in web/UI design, graphic design, branding, illustration, and photography. He has worked with @Twitter, @Microsoft, @BeroccaUK and @Mailchimp, to name a few.
User Experience Designer and CEO of UX design agency @clearleft as well as creator of usability testing app @Silverbackapp, and curator of @dconstruct and @uxlondon events. He is also the author of CSS Mastery.
Author of Designing for Emotion from @abookapart and VP of Design Education @InVisionApp. He also founded UX practice @MailChimp.
Mentor for startup investment group @designerfund. He is the former Principal Designer @Twitter and co-creator of @52weeksofux. He is also the co-founder/CEO @goabstract.
When you're having writers block, try sketching. When you're having trouble with a design, try writing it out instead. #getunblocked

— Josh Brewer (@jbrewer) June 13, 2016
Co-founder and CEO of design consultancy firm @Fjord. He also provides design and innovation for @AccentureSocial.
Works @Google on @Firebase, focusing on @Android. He also does web design and programming. He has created both Android apps and themes for @GoogleChrome.
Works on product strategy @Basecamp. He also publishes articles and talks on UI design and product management on his website, FeltPresence.com.
Anybody can endlessly think of ways to improve experiences. The hard part is deciding what matters today at what price. Designers take note.

— Ryan Singer (@rjs) October 24, 2016
Sr. Manager of Customer Experience at @Travelocity, part of the @Expedia family. Martin oversees Travelocity's Customer Experience Program.
Author of Mobile First. He has worked for @Yahoo and @eBay, but also founded Polar Polls, which was acquired by @Google (where he is currently Product Director), and Bagcheck, which was acquired by @Twitter.
Principal Designer @Adobe, Design Chair @Wildcard and co-founder of @Kidpostapp. Formerly, he was co-founder/CEO of Mixel, and Design Director of @nytimes Online. He wrote Ordering Disorder: Grid Principles for Web Design.