Intechnic's New Website from Start to Finish - How Did We Do It?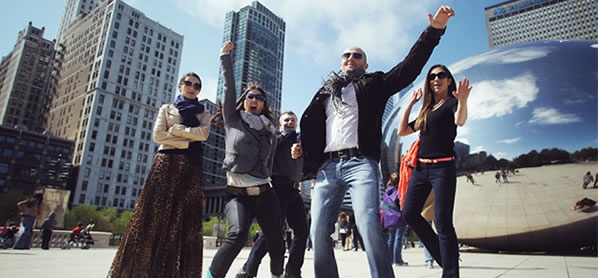 You might have noticed that our website has been completely redesigned and we'd like to take you behind the scenes and give you an exclusive, insider view of how a team of twenty-six talented professionals worked together, from five different time zones around the world, to bring you the new Intechnic.com.
The Realization
It all started with a reality-check. We were so focused on the success of our customers' projects that we didn't even stop to ask ourselves if our own current website truly represents who we are, our vision and our values. The answer was 'No' - the son of the shoemaker had no shoes. We decided it was time for us to build a word-class website that is going to represent us properly as well as to showcase our talents.
In many ways, the fate of your website is determined way before the selection of technology or design
The Objectives
You can't build a successful website without having clearly defined business objectives, so we started the process by setting concrete goals and raising the bar high. From day one and throughout the project we were our own toughest client, challenging ourselves, scrutinizing our work, and making sure that the outcome always exceeds our own expectations.

Part of a creative brief that we filled out to establish associations our own website. What do you think? Do you see 'James Bond ' in our new website?
The Logo
A great website starts with a great logo. A great logo should communicate the nature of the business, its principles and its mission. Does our new logo accomplish that? Our brilliant art director Andreas seems to think so, but we will let you be the judge of that!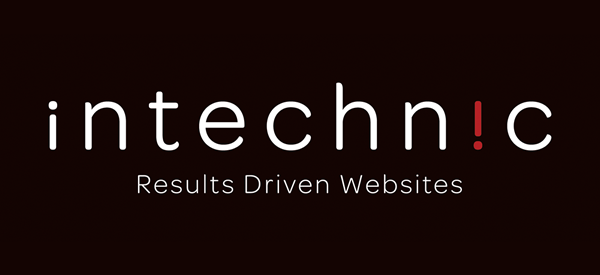 We have gone through dozens of concepts and ended up choosing a logo that is simple, elegant and truly represents what Intechnic is all about.
The Wireframes
In order to design a world-class website, you should always start with wireframes: sketches and prototypes for what the resulting website will look like, how it will flow and how it will function. Wireframes consist of 4Cs (just like diamonds): Cost, Clarity, Creativity and Call-to-Action.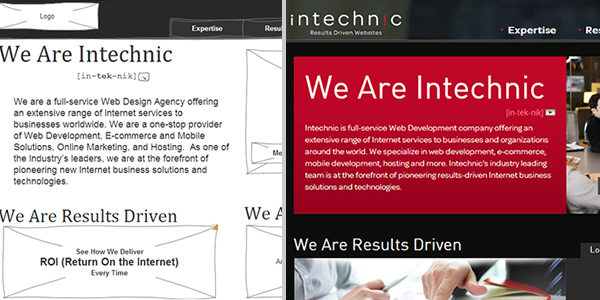 This is one of our sketches of the About Us page of the website (on the left) with the resulting design (on the right).
The Design
Our goal was to create a website with visually stunning design that reinforces our company's brand and directs visitors to take action. We set the bar very high for our design team (Kristina, Andreas, Pawel, Stas, Alex and Yulia), and they delivered a world-class design that surpasses all our competitors.
"Working on Intechnic's website was a lot of fun. We had full creative freedom to express ourselves and that's exactly what we did." – Kristina Guzikova, Creative Project Manager.
The Technology
Our technical team includes some the world's most intelligent minds, (Dmitry, Alex, Erik, Stas, Valentin, Pavel and Michael) not to name any names. In fact, most members of our development team have contributed to the growth and the popularity of many web technologies, and naturally, that kind of brainpower had to be challenged.

Intechnic's new website employs the most innovative and cutting-edge technologies that include: HTML5, CSS3, Adaptive Design, Parallax Effects, Touch Events, and more.
The Copywriting
The key to any successful website is having customer-centric content that delivers the right messages with power and conviction. Our copywriters and marketing gurus (Danielle and Larry) spent hundreds of brainstorming hours on content creation to craft messages that reach the hearts and minds of our customers. Here are some of our favorites:
We create Results-Driven Websites.
We Deliver ROI = Return On Internet.
We Generate Customers Not Just Visitors.
We are passionate about challenging the status quo.
We believe in making a difference.
The Illustrations
To support the content on our website, we had our top illustrators (Alex and Julia) produce unique and original illustrations in order to create a powerful visual impact.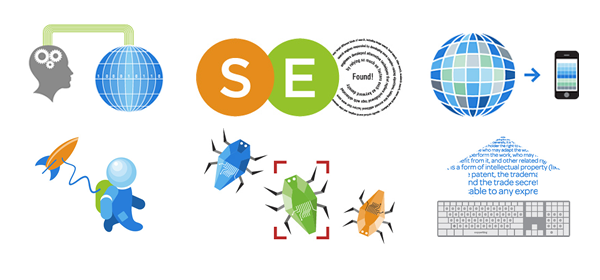 Over fifty original illustrations were created to help support our messages.
The Video Production
We assembled a Hollywood-grade video production team to help us produce over 20 eye-catching HD videos that feature amazing camera work, motion graphics, post production effects and voice-overs, using Chicago's city views (Wojciech), the Hills of Los Angeles (Kurt), mountains in Italy (Carlo) and valleys of Ukraine (Vladimir).
At Intechnic, we have a true passion for creating results-driven websites. - Yes, this is Kurt Kelly, the famous voice of Hollywood, narrating our video!
The Photography
From the very beginning of the project, we decided to limit the use of stock photography on our website. We decided to base the design solely on high-quality authentic photographs of our team and our creative environment in order to stand out and connect with our customers on a personal level.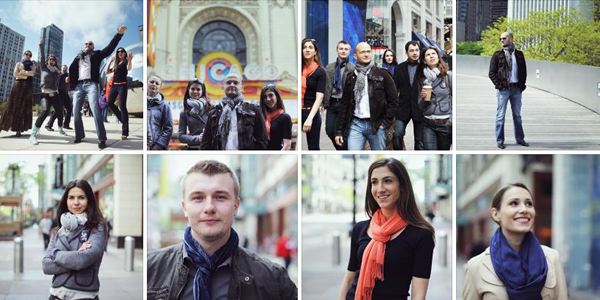 Our amazing photographer (Anna) shot over 500 photographs and made the entire process enjoyable and fun!
The Result
We can spend more time bragging about our new website but at the end, it is you – the visitor who will be putting it to the test. We just hope that you will enjoy our new site as much as we enjoyed working on it! We'd love for you to share your comments and suggestions about our new website below.