A Complete Guide to Building a Content Marketing Strategy from the Ground Up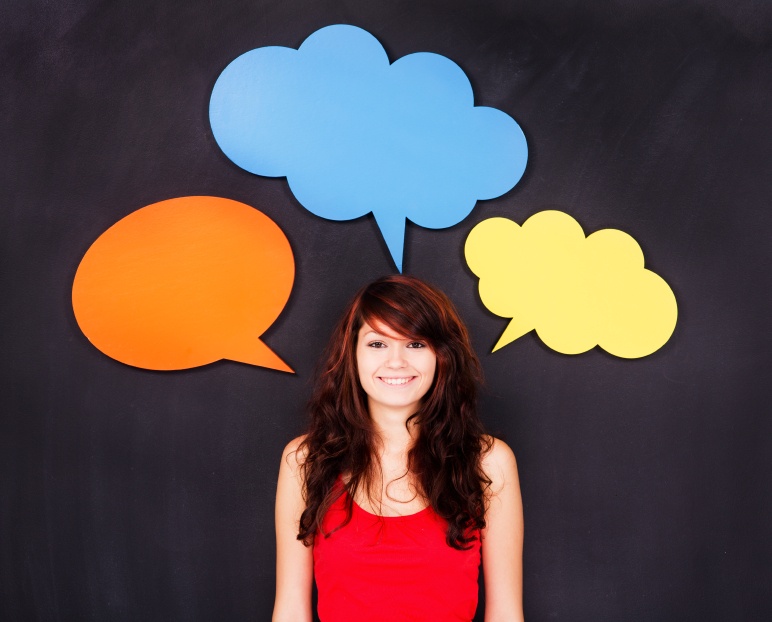 By many accounts, content marketing is the current darling of the digital marketing industry, the buzz phrase that has led to a surge in Google searches in the past 2-3 years: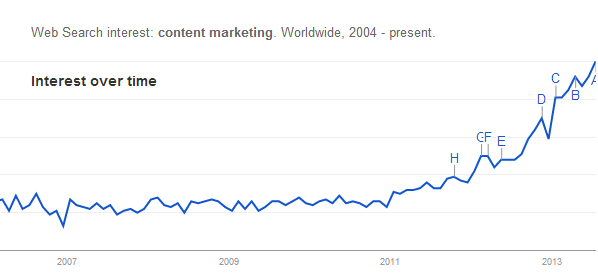 Indeed, 91% of B2B and 86% of B2C marketers use content marketing. But what exactly is content marketing? A great definition comes from Sam Decker of Mass Relevance:
"Content Marketing is creating or curating non-product content — be it informational, educational, entertaining, etc — and publishing it to contact points with customers to get their attention, to focus on the topic around your solution, and pull them closer to learning more about you."
Basically, content marketing is the practice of sharing high-quality text, images, video, audio, and other forms of media across marketing channels with the goal of establishing thought leadership, establishing branding, and growing and influencing your customer and prospect base. When a company pins an infographic to a Pinterest board, that's content marketing. When a brand publishes a YouTube video, that's content marketing. When an agency writes a white paper and offers it for free download in exchange for your email address, that's content marketing. Why spend resources on this content creation and promotion? Because it works. According to recent statistics from Salesforce.com, 90% of consumers find custom content useful and 78% of CMOs think custom content is the future of marketing. All marketers want to build an audience that builds their business, and content marketing is the way to do so. For even more background on content marketing, check out this video on the history of content marketing, dating back to the 1800s:
But now we'll turn to how you can jump start your own content marketing efforts, or refine the content marketing tactics you have in place. Seeing asInternet users share 27 million pieces of content every day, how can your own content break through that noise? The following 10 steps will provide a road map to content marketing success.
Step 1: Define your goals
What do you want a content marketing plan to achieve for your business? If you're a solopreneur, maybe you want to generate new client leads. If you work in B2B marketing, maybe you want to close more sales or drive traffic to your website. If you work in B2C marketing, perhaps you're aiming to increase customer retention numbers. Each goal on your list should be SMART: Specific, Measurable, Actionable, Realistic, and Timed.
Step 2: Determine your target audience
If your content isn't targeted, no one will be listening to you. If you don't already have detailed research on your target demographic, check out marketing expert Heidi Cohen's 12-step marketing persona checklist to flesh out your ideal audience. All content will be created and distributed with this audience in mind.
Step 3: Identify your business' strengths, challenges, most and least successful products/services, and competitive advantages/disadvantages
Before the content creation process begins, you need to fine-tune your value proposition by evaluating areas of richness in your business. Why should users on Twitter or Facebook click on your link? How does your product prompt a purchase? What do you have to offer your customers that's worth their time, money, or energy? More specifically: Is there something you sell that already stands out in a cluttered market? Does your brand have a memorable history or creation story? Is your business associated with a cause? Plot out strengths, challenges, most and least successful products/services, and competitive advantages/disadvantages. Paul Mosenson of NuSpark Marketing has a great worksheet you can use: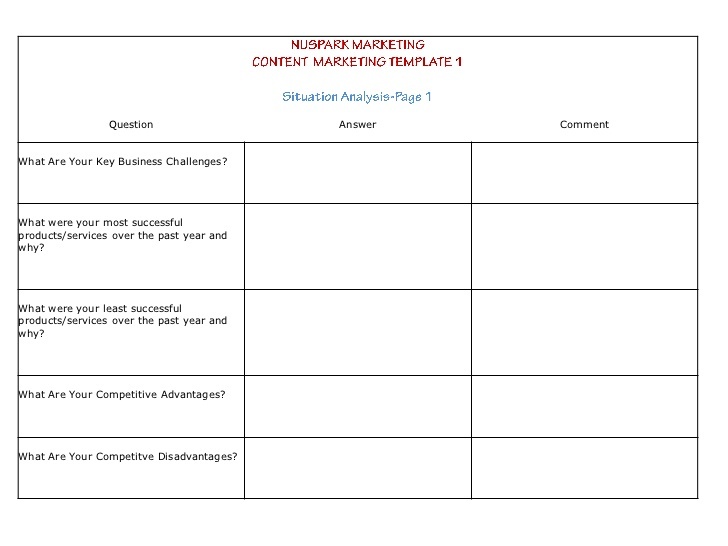 Source: http://www.slideshare.net/nuspark/content-marketing-strategy-templates
Step 4: Identify the same things for your 3 major competitors to evaluate your place in the market
Your potential followers are being marketed to by these competitors, so you need to know how to stand out in contrast.
Step 5: Conduct keyword research
Once you have your 4 worksheets completed — one evaluation for your own business, 3 for your top competitors — it's time to identify the proper keywords to use in the content you'll be creating. You never want your blog posts, videos, images, slide presentations, podcasts, and the like to feel like they have a price sticker even though you're giving it away for free — you always want your readers to feel an organic connection with the content. However, optimizing your content with appropriate keywords is critical to proper targeting and being findable on the Internet. Keyword research is thus a solid starting point to structure your text, images, audio, and video around, keeping in mind you never want to sacrifice the integrity of that content. The 10-12 keywords you use as a foundation in your content creation should be 1) Relevant, 2) Specific, and 3) Competitive. How do you find keywords and narrow them down to this list of 10-12? Tap into your web analytics — what search terms bring people to your site? — utilize Google's Adwords Keyword Tool, monitor industry conversations, listen to your customers on Twitter and Facebook, pick the brains of your customer service and sales teams. For more on keyword research, check out these previous Intechnic posts:
Step 6: Make the appropriate on- and off-page SEO tweaks
Since much of your content marketing output will be promoting your company's website, you need to make sure the keyword optimization you developed in the previous step is aligned with the SEO of your website. For each major content URL of your site, ensure that the keywords you identified above are present in the following elements:
Headline and sub-headline
Body copy
Image alt tags
Page URL
Page description and title tag (meta-tags, editable in the back end of your website; if this is confusing, enlist the support of your web developer or IT team)
Step 7: Determine editorial themes, topics, and types
Now that you've identified the goals of your content marketing strategy, your target audience, the strengths and successes of your brand in context of your top competitors, and the top keywords to utilize in your content, it's time to actually start writing/filming/designing/publishing. To begin, describe the themes, topics, and types of content you will be marketing.
Themes: The categories you'll be discussing with your online community.
Topics: The subjects that fall into each of those buckets of content.
Types: The form the content you'll be creating and sharing will take. Main options ○ Blog posts ○ Webinars ○ E-newsletters ○ White papers ○ Videos ○ E-books ○ Case studies ○ Podcasts ○ Presentations/slide decks
Further, each individual piece of content must always have a purpose. Identify the CTA for each post, video, podcast, or image before publishing.
Step 8: Create a content calendar
Keeping your content marketing fresh, consistent, and committed is as important to your success as targeting the correct audience is. To stay organized and put a workflow into place, create an editorial calendar that provides you with a schedule for what to post, when, and where. As you start to create content, plot out its delivery in the calendar. It's best to have at least one month's worth sketched out at any given time. The style and setup of content calendars vary widely based on individual preference, but here are a couple great examples: Find and Convert's Editorial Calendar Sample Likeable Media's Interactive Content Calendar Template
Step 9: Distribute and promote
A focal aspect of your content marketing is the strategic repurposing of content across channels. For example, you can publish various chunks of a white paper as teaser blog posts on your company website, and tweet and post to Facebook a key quote from each of those posts. You can then design a graphic from one of those quotes to pin to Pinterest and post to Tumblr, Flickr, or Instagram. You can even record a podcast about the process of researching and writing the document. And that's all from one white paper. Get the idea? Here's a distribution checklist to use, at minimum, for each blog post you publish. Adopt the practice for each content type so you're maximizing your distribution:
Publish on Facebook
Post on Twitter
Share on LinkedIn as a post, and to any LinkedIn groups you are a member of
Post to Google+
Pin to Pinterest
Post an image from the post to Instagram
Post an image from the post to Flickr
Post an image from the post to Tumblr
Post any video element of the post to YouTube or Vimeo
Publish in any other niche social networks your business is active on (Quora, Foursquare, Foodspotting, Tencent, Sina Weibo, etc.)
Promote in your e-newsletter
Include link in a comment on other blogs
Promote on website home page
Present on any lead generation pages
Encourage employees to share across their own channels
Of course, within budget constraints, you're going to want to support that content creation and distribution with social advertising where appropriate. Online channels that allow advertising include: Facebook, Twitter, LinkedIn, YouTube, and Tumblr, in addition to Google and other search engines. Social media advertising is still a young market, representing only 1-10% of ad budgets for a wide majority of advertisers, as indicated by a recent BIA/Kelsey study. However, the same study forecasts an $11 billion of social ad spend in 2017.
Step 10: Self-evaluate
Non-promotional
Relevant to your readers
Purposeful
Credibility-building
Supportive of the business or brand
Interesting
Shareable
Fresh
Understanding of your readers' needs
Indexable on search engines
Organized and easy to consume
There you have it: your complete guide to building a content marketing strategy from the ground up. Hopefully with this knowledge in mind, you'll resist using digital marketing tactics as another megaphone and consider crafting high-quality content that you'll delicately distribute to the right people at the right place and time.