PLS is one of America's most successful and fastest-growing consumer financial services retailers. The company serves its customers through stores, offering check cashing, prepaid debit cards, money transfer services and bill payments, among many other services. To drive foot traffic to PLS stores, Intechnic launched a user-centric redesigned website to help customers find the right service and locate the nearest store.
0

%

Increase in
Conversions
The newly designed website resulted in an astonishing 218% increase in conversions.


See our article in Forbes:
How Financial Services Can Increase Sales through Improving User Experience
Problem: Website Didn't
Drive Business
The outdated PLS website wasn't performing as an effective business tool. It wasn't communicating the value and the wide range of services offered by PLS and, subsequently, wasn't driving foot traffic to PLS stores.
The website wasn't even mobile-friendly, even though most website traffic was coming from mobile devices.
PLS was losing business because of an underperforming website.
The website didn't present PLS as a reputable and established company
There was a high bounce (abandonment) rate
Users were struggling to find information and store locations
The website was not mobile-friendly. There were no calls-to-action
Objectives: Improve User Experience and Increase Conversions
To turn the tide, we set out to create a user-centric web design that would help PLS customers find the solution to their needs and drive them to their local store.
Here is what we aimed to deliver:
World-class responsive website design and messaging that emotionally connected with users
A website that worked well across all devices but was specifically optimized for mobile users
User centric Information Architecture (IA) and intuitive navigation
State-specific versions of the website catering to the services provided in each state
A wizard to help quickly find information based on the user needs
An easy to use store locator to quickly find the store near you
Success through
Research & Strategy
Research & Strategy is the foundation of any website's success. It's do or die. We knew going into the project that we couldn't solve the problem without first understanding PLS' customers and their needs.

Customers First
We started the project by conducting dozens of street intercepts with PLS customers. Using this data, we developed comprehensive personas and customer journeys allowing us to better understand PLS customers: who they are, their needs, their pain points, as well as, what drives and motivates them and how they make decisions.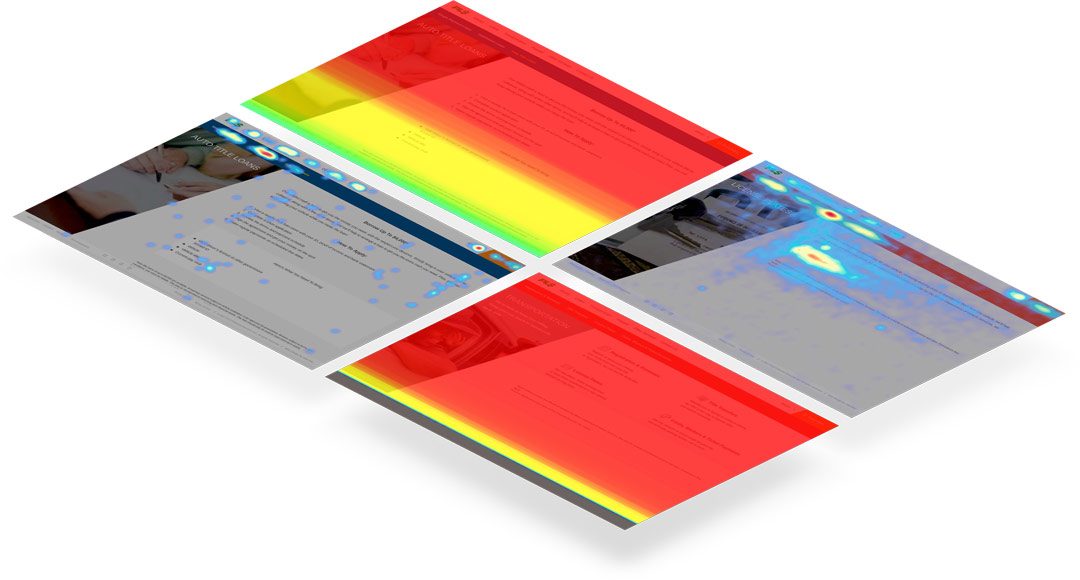 UX Audit Comes Second
We also performed an extensive UX audit on the website before beginning the redesign to study various behavioral patterns and learn from previous successes and failures. This gave us a good idea of what PLS customers actually wanted, both from qualitative and quantitative research.
Success through Testing
We follow one simple principle that allows us to deliver results each and every time: test early and test often. This project wasn't an exception.
Content Is King­
A website can only be successful if it contains information that is easy to find. That's why we teamed up with PLS early in the process to create an information architecture (sitemap) and a navigation system that make it easy to find the desired information.


Tree-Testing the Sitemap
We knew that the new sitemap would be a big improvement compared to the old website, but there was still room for improvement. We decided to use "tree testing," a method that allows us to test website sitemaps with real users before the site is even built. So, we did what we do best: we tested the "PLS tree" with real users and made further enhancements to improve findability of information.

Prototyping…and More Testing
Once the information architecture was completed, our creative team went to work. Each page of the new website was painstakingly wireframed, prototyped, refined, and tested with real users to ensure the best possible user experience (UX).

Testing on the Streets…
Our team traveled across the county, conducting store intercepts and testing (with actual customers in PLS stores) in New York, Chicago, Dallas, and Los Angeles.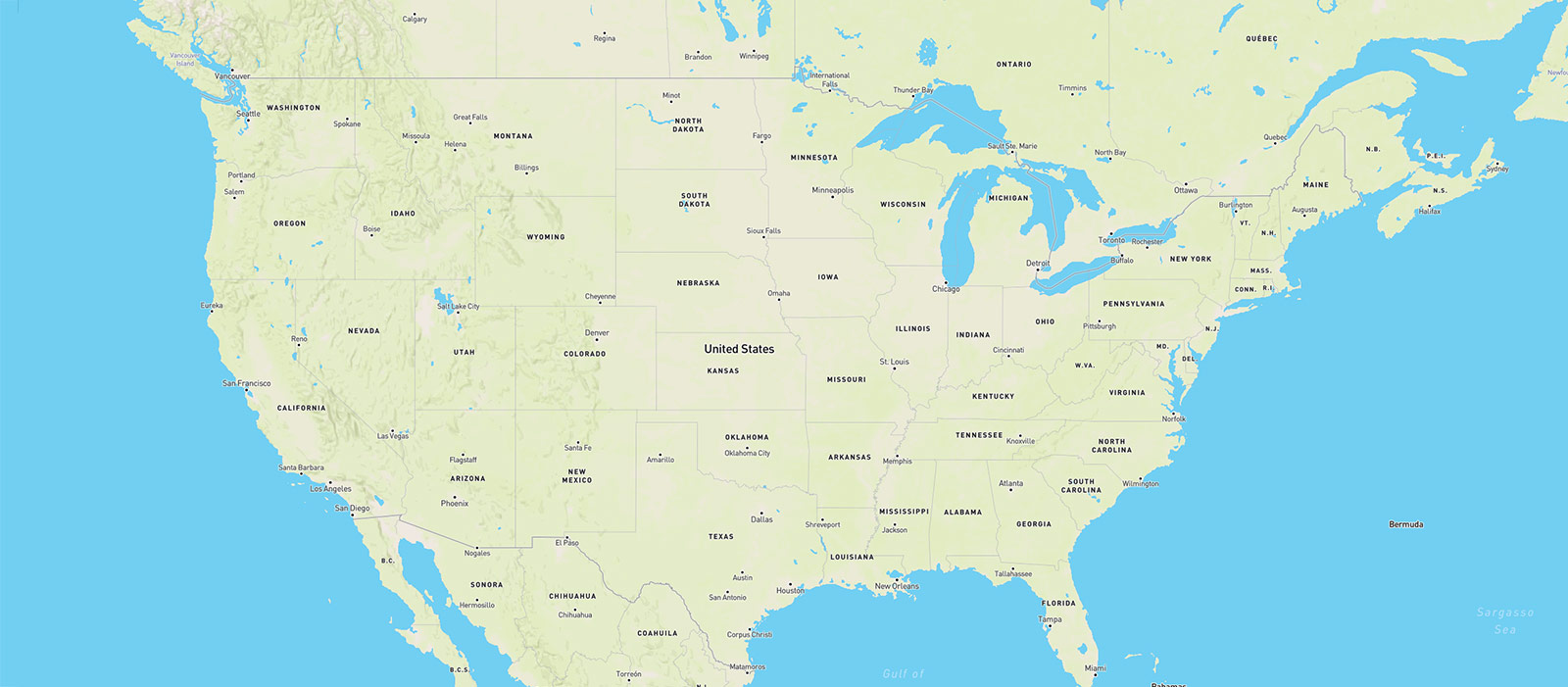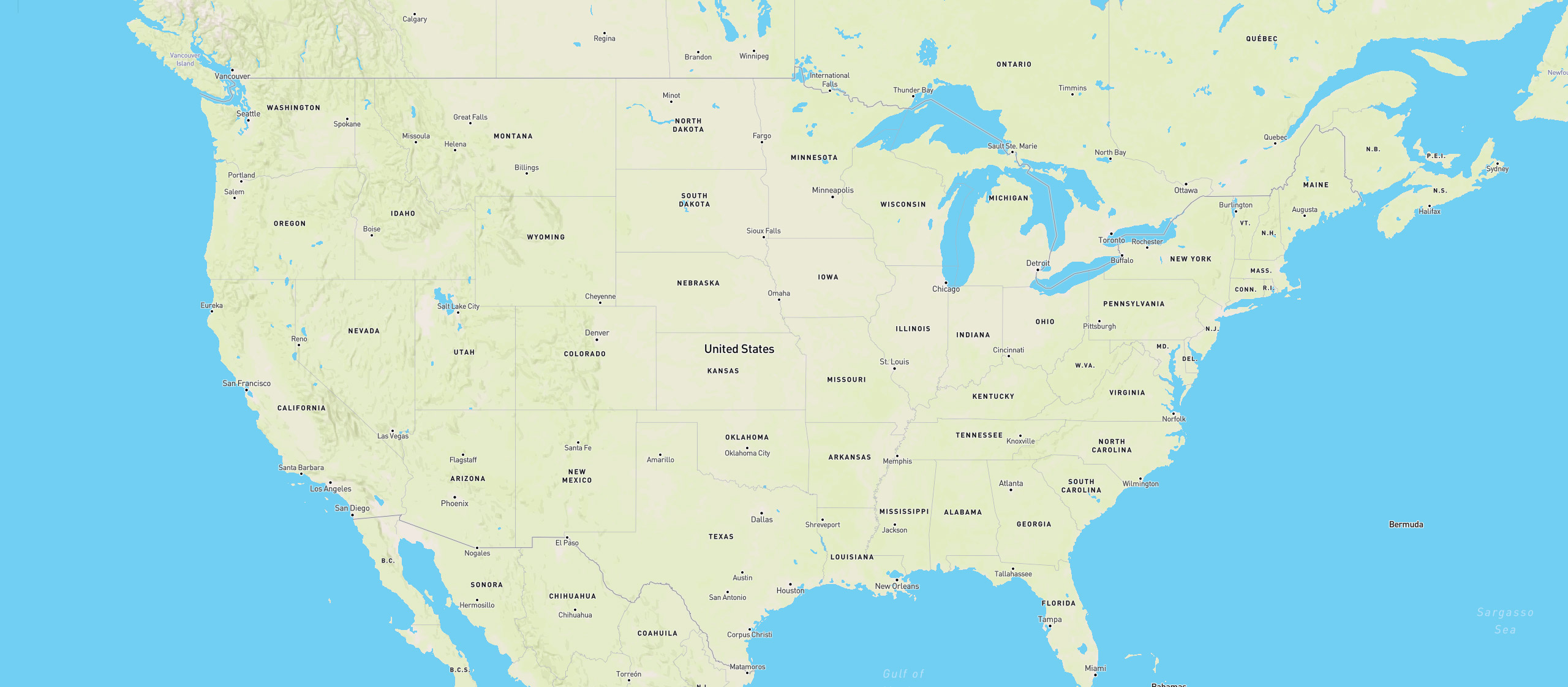 …and Testing on the Web
Our golden rule of testing early and testing often wasn't only limited to PLS stores. We tested the website with hundreds of online users, uncovering even more opportunities for improvement: from tweaking content and images, to colors and navigation choices.
Result: Best Website for Financial Services
When we set out to build a new website for PLS, our objective wasn't just to build a better website. Our true goal was to build the best performing website in the financial services industry. We achieved that by listening to what customers wanted and needed and created a website that they felt confident using.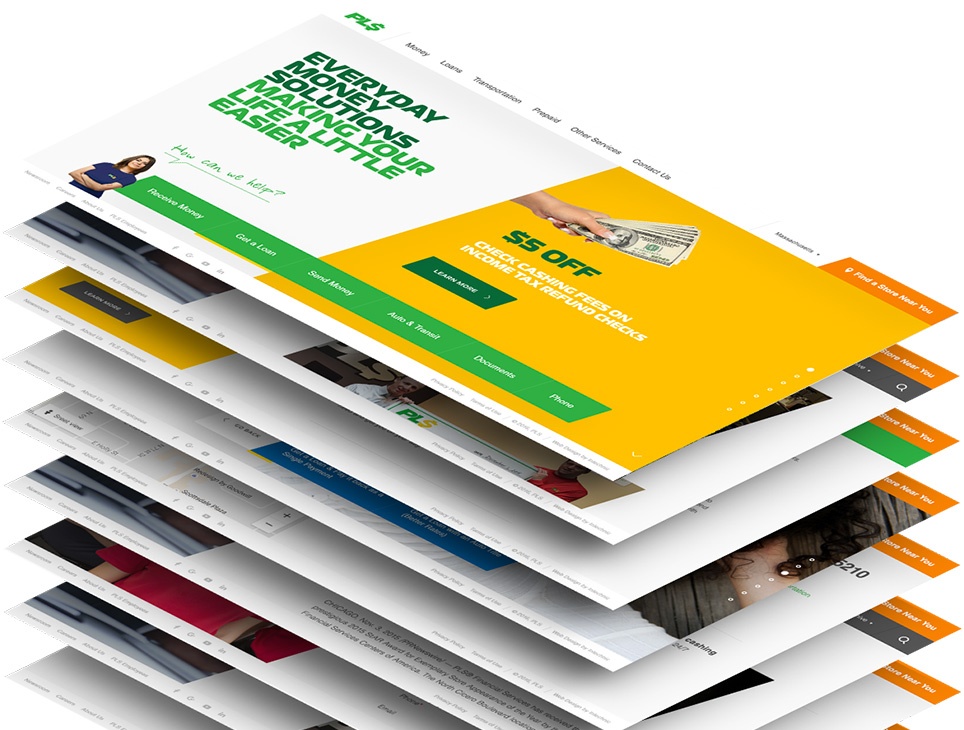 Humanizing the Digital
Experience
From our research, we knew that people liked dealing with people when making financial decisions, but the same time, we knew that 75% of consumers preferred self-service. Therefore, we set out to "humanize" the website experience by listening to and learning from website visitors, as well as providing them with timely and relevant information. By carefully studying user interactions, we managed to recreate the famous PLS in-store experience, right on the website.


Taglines… Colors… Camera…
We also created and finetuned relatable taglines and used custom photography to build trust and confidence. We applied color psychology to deepen the connection on a subconscious level. We made many revisions to taglines, images, and colors as the result of user testing.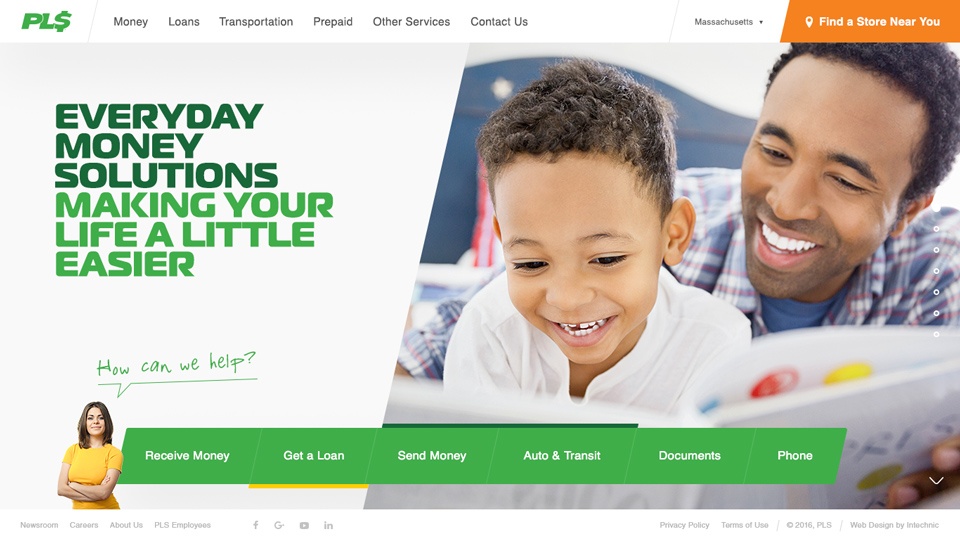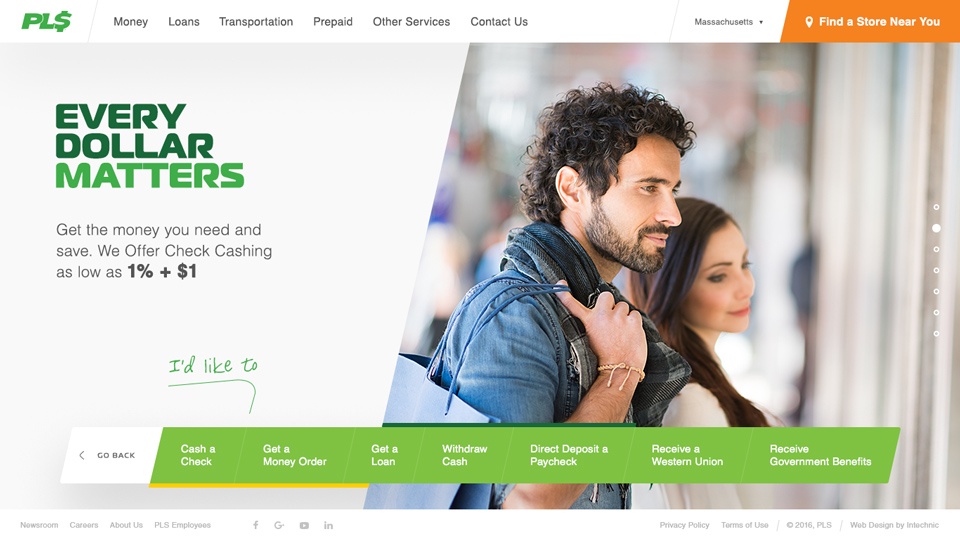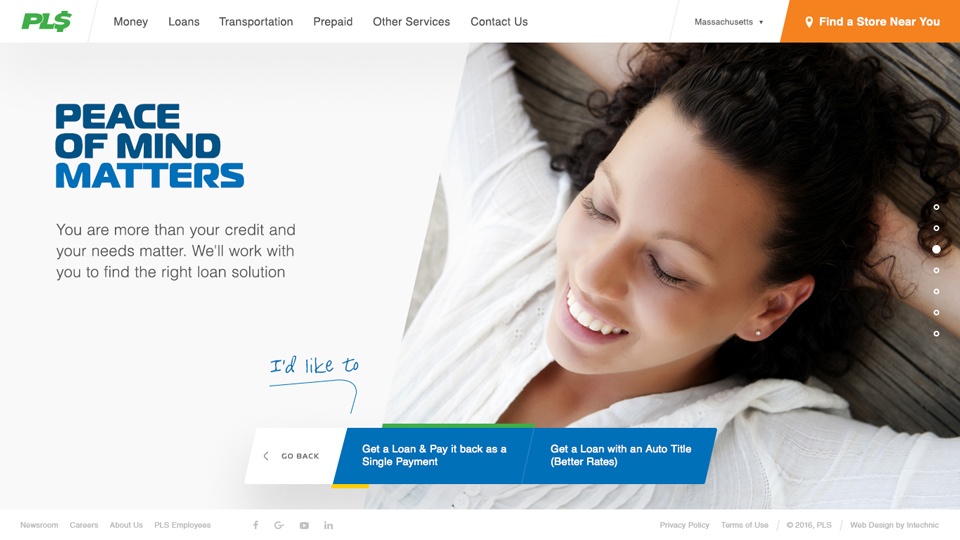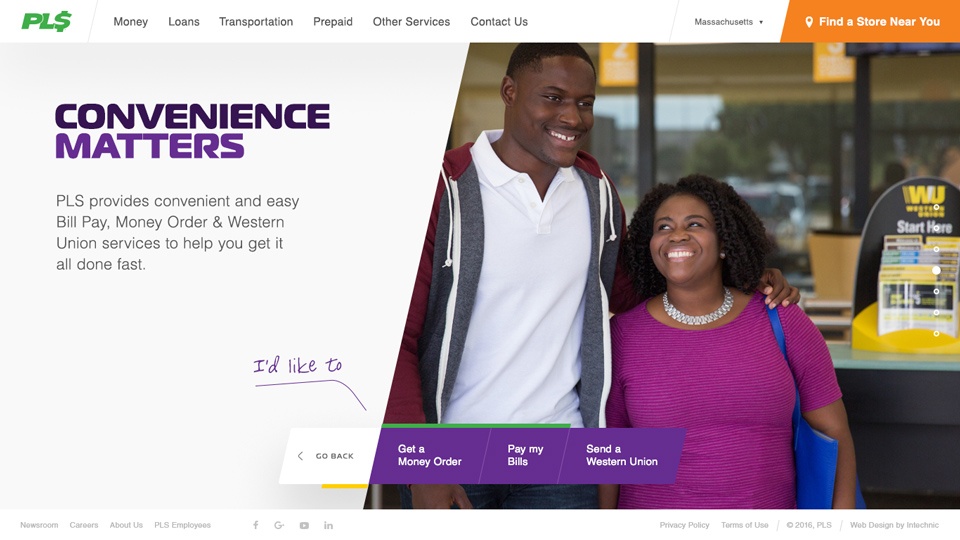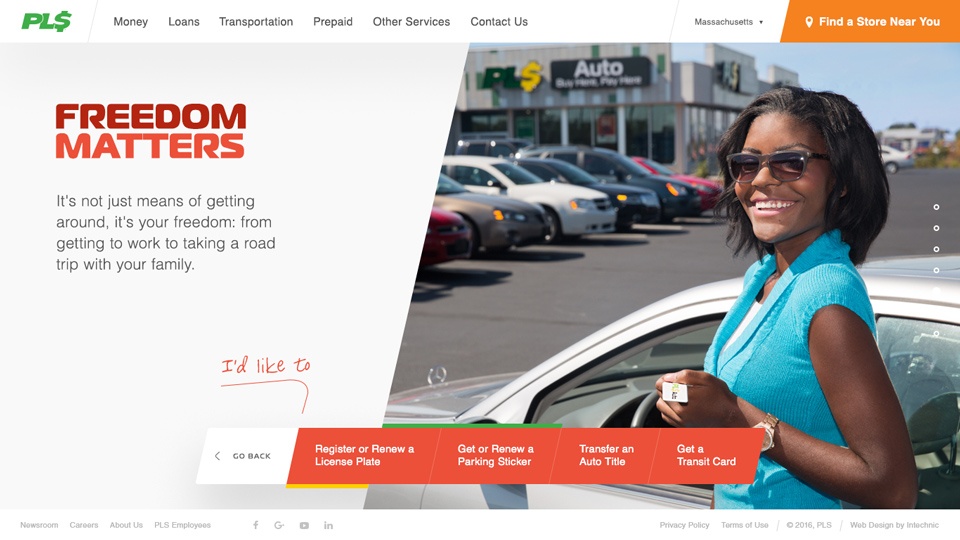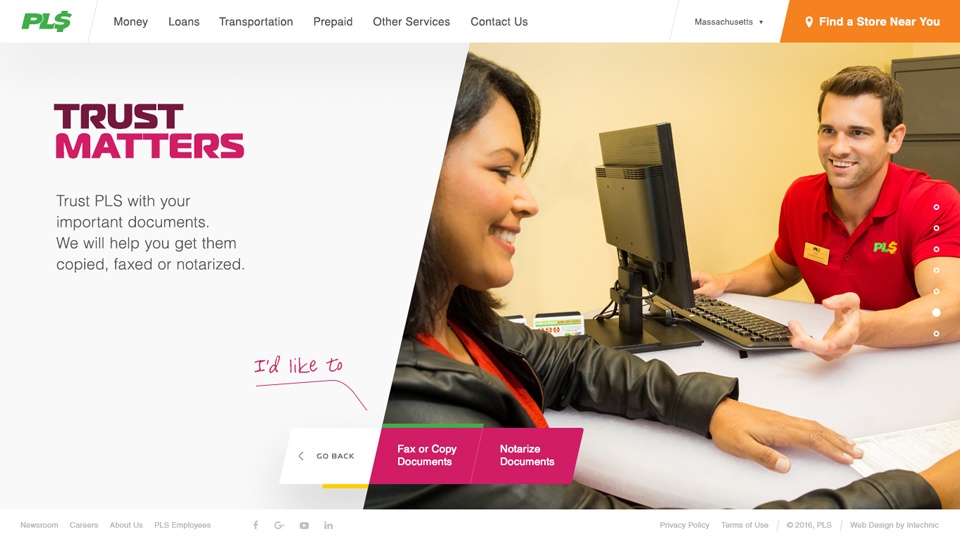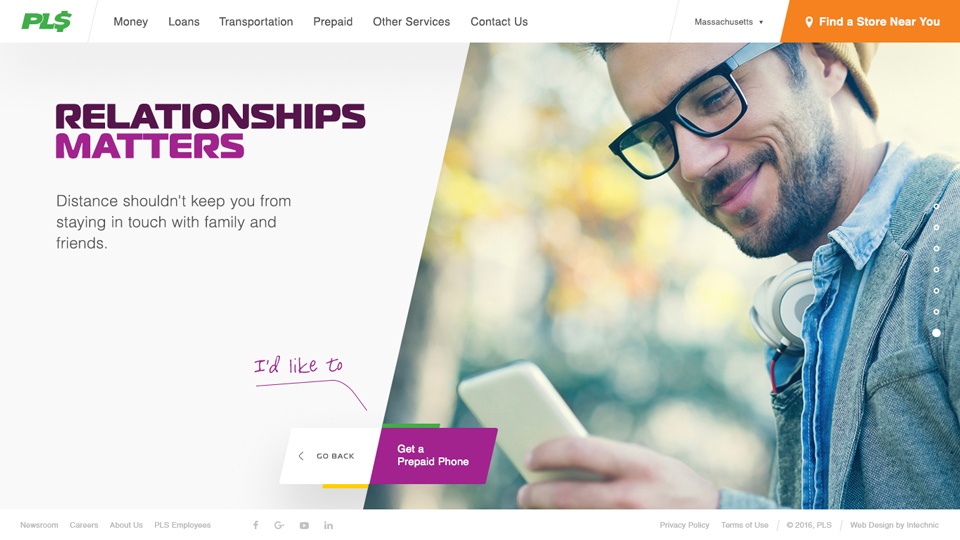 Across State Lines
The new website supports customers in 12 different states and features state-specific services, content, and stores that are automatically determined by a visitor's location.


Store Locator at Your Fingertips
The new store locator allows website users to find the store closest to them and offers convenient access to maps, directions, and services provided at each location.

Improving the Best
The management at PLS understands that Good UX is Good Business. As a result, Intechnic continues conducting thorough UX audits of the website and ensuring it continues servicing its customers in the best way possible. Every interaction with the websites is monitored, tracked, and analyzed for improvements.


ROI (Results on Internet)
With an amazing 218% increase in conversions, we have created a truly user-centric website that is considered one of the biggest conversion increases in the financial services industry.
+

0

%

Increase in
Conversions

Intechnic's user-centric UX approach has more than doubled the conversions on our website. Users can now easily find the service they are looking for and the nearest stores to serve them.