How to Generate High-Quality Backlinks for SEO - What You Need to Know
There's been a lot of talk about how to build backlinks recently. But you might be wondering "what exactly is a backlink" and "how do I get more backlinks?" Well, you're in luck. Here's what you need to know to develop a great backlink strategy.
What Is a Backlink?
A backlink is a link from an external website that links to your website. This is not the same as an internal link--a link from one page of your website to another page of your website. Backlinks are very important for search engine optimization (SEO). As I mentioned in a previous article on SEO, one of the criteria Google uses to rank results in its search engine is the number of external links an particular URL has linking to it. The more high-quality links an article has, the higher it will rank. Notice I mentioned "high quality links." You don't want just any old backlinks. More is not necessarily better in this case. Content quality is the key. A link from a very popular website, like Forbes or Huffington Post is worth "more" than a link from a no name site. You should think of your link building as earning links not purchasing them. You earn them with the quality of your content. Without that quality factor, the entire effort of obtaining links will be an uphill battle. Purchasing spammy and low quality links is ill advised.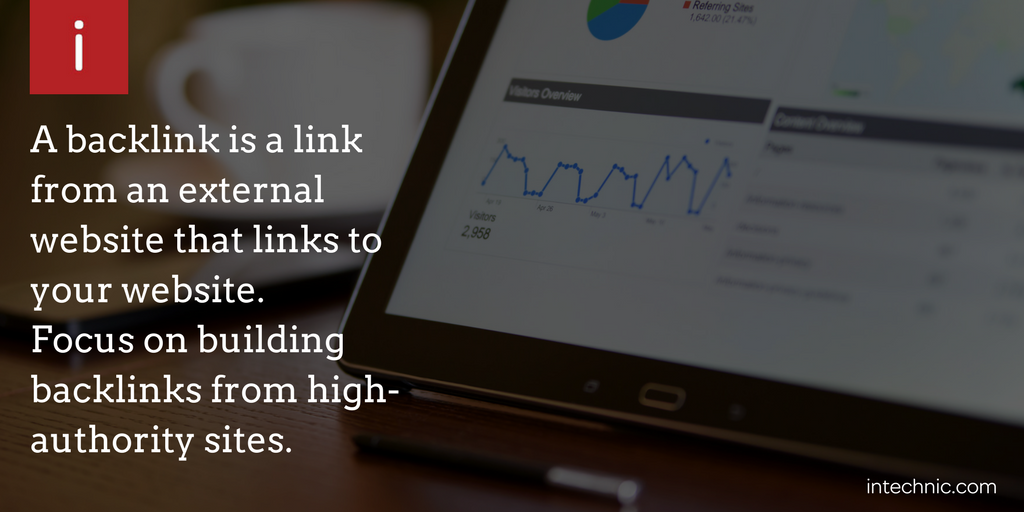 How to Build Backlinks to Your Website
So now we've discussed what backlinks are and why you need them. You might now be wondering how to get people to voluntarily link to you from quality sites. Let's look at some ways to earn links to your website:
Natural Editorial Links This is others choosing to link to your content at will. In order for someone to want to link to your content, it has to be very good. It has to be so good that you would want to share it. By producing great content and raising awareness, you will inevitably convince others to link to you as well.
Manual Outreach Share your content with others. If you think a person could benefit from referencing your content (for example, another blog referencing the market research that you've done), contact them to see if they are open to referencing your content.
Guest Blogging This remains one of the most popular methods that is also white hat and reliable. If you are producing good content, offer to write for others' websites. It is generally acceptable to ask for a link to your website to be added to your bio.
Press Releases If your company has announcements, new projects, product, innovations, or other newsworthy information, issue a press release to draw attention that can result in legitimate links from bloggers and news websites or at least, the mention of the brand.
Ask Customers / Partners Why not ask your loyal customers or partners link to you from a prominent place on their websites? If they love your product or brand, they would likely be open to this idea.
Through Sponsorships Consider sponsoring a local charity, an event or a scholarship that is worthy of earning you a link.
Through Participation If you or your colleagues are members of associations or professional organizations or frequently participate in tradeshows, seminars or conferences, why not ask for a link from their website?
Looking for more great SEO tips? Download the free eBook below: